Homecoming
A Hockey Journey: From Amherst to the NHL — Alumni Profile, Sean Ellis '07
A true embodiment of the Amherst student-athlete experience, Sean Ellis '07 was never afraid to put his head down and work for everything. This dedication allowed him to reach great heights, from being voted captain of the hockey team to working for the NHL.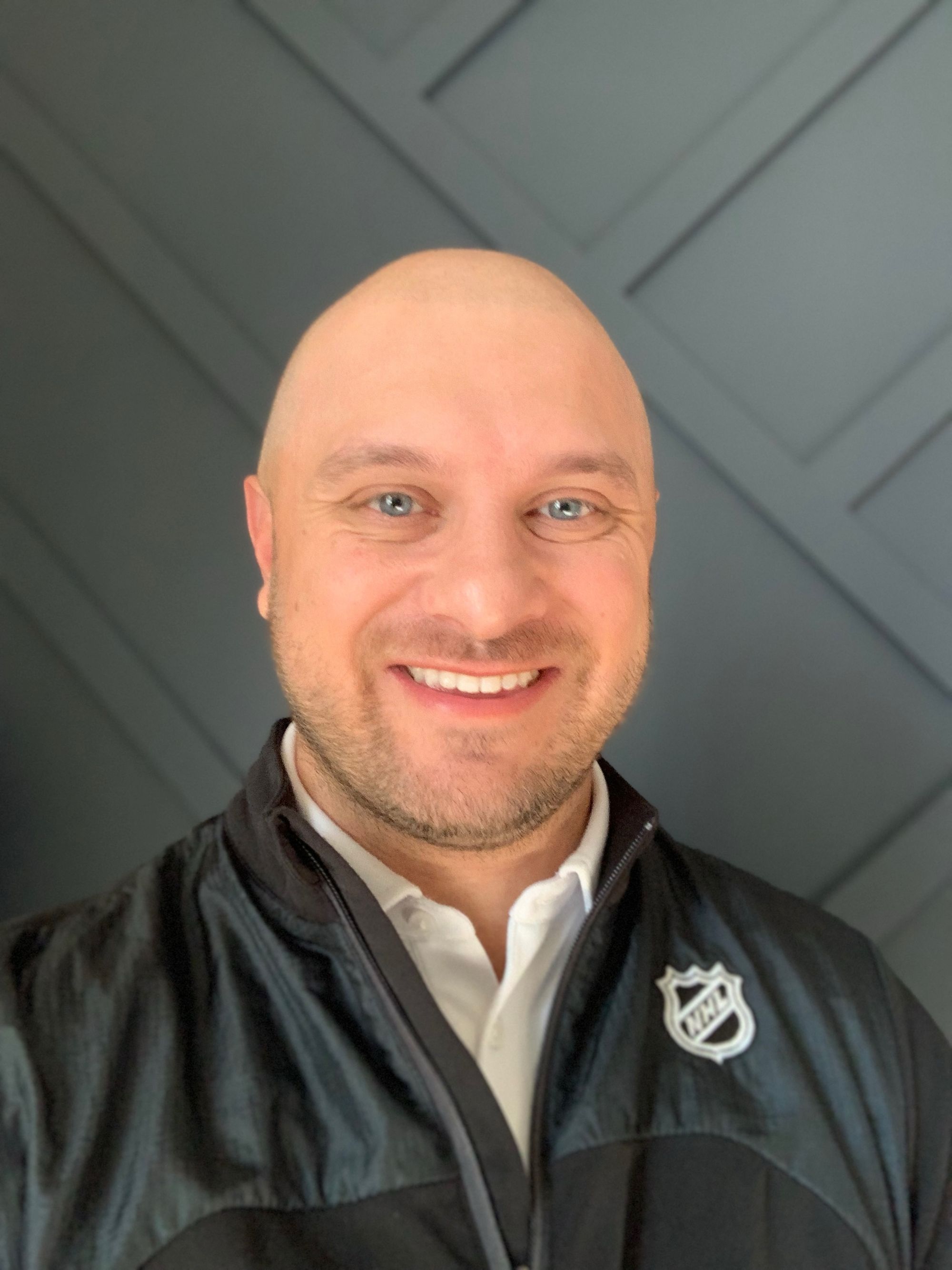 Sean Ellis '07 has loved hockey all his life. Once he started playing, he knew he would never want to let go. But for that desire to come to fruition (as it has), he knew would have to work for it: he would have to make his own luck.
It takes a certain kind of person to dedicate themselves to a sport in the way that Ellis has. His time in the game has taken many forms, ranging from the ice at Amherst's Orr Rink to Toronto, Canada, where he is an integral part of the team that watches every National Hockey League (NHL) game and reviews every goal to make sure that they're contested fairly. But ask him about his impact on the game, and he will be the first to downplay the work he has done, saying, "In 13 years working in the NHL, I'm still in my infancy in having some lasting impact." But that's is just one way that his humble attitude has impacted his life, in addition to driving his work ethic and determination.
A Non-Traditional Path
A local kid who was born and raised in the nearby town of Springfield, Mass., Ellis played multiple sports growing up, but it was his passion for hockey that stood out. In high school, Ellis was well liked, and had a large circle of friends, but was known as someone who was committed to his sport: once he knew that hockey was what he wanted to dedicate himself to, he put all his energy into it. He is the first to admit this — he didn't go to parties or hang out with people much after school. But it was this hard work and dedication to his craft that allowed him to eventually make his way to Amherst.
Ellis knew about Amherst, and was very well aware of the academic reputation that it held. And, while he knew he was an intelligent kid and did very well in school, he felt it would be a reach for him to get in because of the high standards for admission. That fact, coupled with his desire to play Division I hockey meant that initially, the school he would eventually call his alma mater was not on his radar. So, he committed to playing junior hockey two years before college in the hopes of making his dreams a reality. While many of his peers were taking the SAT or ACT, writing college essays, and going on college tours, Ellis was honing his craft. Once he knew that he would be playing at the next level, he was determined to make the most of his chance.
"I put all my eggs in that basket"
Ellis' two years playing junior hockey proved fruitful, providing him the ability to grow up in a way he hadn't been able to do in high school. In an effort to stay academically engaged, he took classes at Holyoke Community College while also balancing his hockey schedule, studying for the SAT, and his responsibilities at home, since he was still living with his family in Springfield at the time. I think Ellis said it best: "What junior hockey afforded me was a couple of years, to grow, to mature, as a hockey player, as a student, as a person. And it really helped me, maybe more than anything, kind of understand where my shortcomings were. It gave me that time to address them." Once he realized this and found his footing, everything changed.
By the second of his two years playing juniors, Ellis was beginning to have conversations with coaches about playing hockey at the college level, and consequently reconnected with the Mammoths' assistant coach, who he had known since his days of playing youth hockey in Springfield. Once the two started catching up, and Ellis gave the coach his grades, they began to talk about how they could bring Ellis to Amherst. And, as soon as Ellis knew that becoming a Mammoth was a possibility, he got to work.
"I did whatever I could do to make myself the best candidate possible to get in. Because I think I realized that at the time, I wanted to use hockey to get me into the best school I could possibly get into," he said. "And then I got really fortunate, you know, the right things happened and it kind of just fell in place. And as soon as I got accepted it was a no brainer, I accepted it on the spot."
"I wanted to know how I tick"
Even after having matured so much during his time playing junior hockey, Ellis admits he walked onto campus woefully ill-prepared for his freshman year of college. While he felt very ready for college athletics, his confidence didn't yet extend to his academics. Like many students arriving at a college like Amherst, he was immediately overwhelmed by other students' level of intelligence, and what was ahead for him, despite feeling he did everything he possibly could to be prepared for that moment. In the end, it was his work ethic, the thing that had gotten him to campus in the first place, that helped him navigate his new environment.
This work ethic extended to his studies: while he came to Amherst with no idea what he wanted to major in, Ellis's connection with visiting UMass Professor Richard Halgin and Professor of Psychology Catherine Sanderson — the hockey team's faculty liaison and Ellis' primary mentor and academic advisor during his time at Amherst — were huge influences on his decision to major in psychology. He wanted to learn how he ticked, and from where the determination he had in spades originated — when he found the answers to those questions in the psychology classes he was taking, he decided it was the path for him. But, just like his path to Amherst, Ellis didn't take the road well traveled. Instead, he worked extremely hard to forge his own path.
From Player to Official
Initially, Ellis' plans after college included going to graduate school for sports psychology, but he decided to wait a year to do so and focus his energy on trying to go as far with hockey as he possibly could, believing that, "if it's in your head and your heart, you have a duty to try." After a short stint in the Central Hockey League, he returned to Amherst as a volunteer assistant coach for the hockey team, and continued his path in the game he loved.
It was here that he reconnected with the father of one of his Amherst teammates that worked in the broadcasting department of the NHL. Through the conversations that they had, he was able to get the opportunity to apply for an entry-level job in the NHL's broadcasting department, and after eight months of extensive interviews and persistently following up, Ellis got the job. After spending two years in New York, he would move to the league's headquarters in Toronto. There, in addition to his job working with Canadian television networks on broadcasting rights, he was offered the chance to help out the hockey operations department on a part-time basis because of his hockey experience.
Because the department's job is to watch every single game and review every goal to ensure that the integrity of the game is maintained, his days were busy, and his nights were busier. But just like in college, despite the extra time it would require, he loved what he was doing, and was willing to put in the work to do the job right. Because of this, when members of the department left and a position opened up, he was able to get the job.
Now a full-time member of the hockey operations department working in the NHL's Situation Room, Ellis' job description has expanded from just ensuring the legality of goals to also include verifying goalscorers and recommending rule changes. But even with his increased workload of late, his love for the game has never waned. He is essentially getting paid to watch the game he loves so much. It is a dream come true.
Doing What He Can
Even though he is now one of the most integral and senior members of a vital part of the NHL Administration, he still feels that it is his duty to give back to the community that has given him so much. In addition to his job, the teammates he played with and the people he met are still some of his best friends, and he fondly looks back on his time at Amherst as some of the best of his life. So, when students reach out, he does everything he can to help, even offering this tidbit of advice about making the big decisions in life: "In a perfect world, if you could decide right now, what would you do?" He told me, "If whatever you choose doesn't work out, you now have an answer, so it's always worth trying."
Ellis' hard work and dedication has defined his journey to this point, and even when he has failed, his determination has allowed him to change course with a huge amount of success. Without a doubt, the advice he gave students has rung true for him, and I, for one, am excited to see what his passion will bring to his life for years to come.