commencement
Aditi Nayak: Bridging the Gap Between Lab and World
Aditi Nayak combines a remarkable work ethic, an empathetic demeanor, and a mind for problem-solving in her efforts to bring scientific knowledge into the world at large.
Aditi Nayak '23 does the seemingly impossible.
A self-admitted "workaholic" at times, she has spent hours in the lab each week researching the impact of zinc on the brain, founded Amherst's premier science publication, worked research internships at the University of Pennsylvania and NASA, and initiated a project to more efficiently harvest rainwater in her mother's hometown of Mambattu, India. All this while double-majoring in math and neuroscience, notoriously among Amherst's toughest (and almost "accidentally" picking up a third major in political science).
When I spoke with Nayak about her time at Amherst, it was via Zoom — she was spending her third-to-last week of college in Canada, visiting a research lab. Before the interview, having scrolled through Nayak's jaw-dropping LinkedIn profile, I anticipated an intense personality: the type of person who has little patience for anything other than the academic grind. I was, however, completely mistaken. Nayak pairs her astounding work ethic with an easy-going, empathetic demeanor.
It is this quality, I suspect, that makes Nayak not only an adept researcher but also a lucid communicator of complex scientific concepts. She has written countless articles for the Amherst STEM Network, presented research at conferences, and, just two weeks ago, participated in Amherst's annual Three Minute Thesis Competition.
"Scientists, in general, aren't the best at communicating or explaining their science to all types of audiences," said Nayak's lab supervisor and mentor, Assistant Professor of Biology Sally Kim. "And she has that ability."
Just looking at Nayak's resume — her skills and accomplishments — does not tell you the full story, however. But when you talk to her, it becomes apparent: She has a genuine excitement about understanding the world — and also about making it a better place.
"It's kind of frustrating when science is done in a vacuum," she told me. "The whole point of science, I think, is that it's inspired by questions that happen every day. The only way that makes sense is if you feed back into everyday life. Like, 'OK, this is what we've learned. This is how it translates to the real world.'"
Finding these solutions, Nayak said, "That's 100 percent my mission."
From Jock to "Bookworm"
Nayak is from West Windsor, a suburban town in the heart of New Jersey. Interestingly, the community in which Nayak grew up was predominantly South Asian, so she didn't think much about her own Indian American identity as a child.
Nevertheless, she had a strong connection with her family, who she said supported her in every endeavor. "Their attitude was always, 'What do you want to do? How can we help make that happen?'" Nayak told me. "In that way, my family made me feel that anything was possible."
Her brother, Akash, is her "best friend and greatest inspiration," she added.
Though her parents encouraged her to try out many different activities — everything from painting to ballet — Nayak's grade-school days found her most often on athletic fields and courts (and certainly not in a lab). Nayak was a three-season varsity athlete in high school, playing lacrosse, basketball, and marching band ("which I count as a sport, but maybe you don't," she said, laughing).
Her time as a serious athlete provided her something even more valuable than speed and strength: "Doing three sports takes a lot of discipline," she explained. "And I learned how to be very disciplined through that."
In the last lacrosse game of her senior season, however, Nayak suffered a crushing blow: She tore her ACL, and was left effectively bed-ridden the entire summer.
Having lost the freedom afforded by mobility, Nayak sought to regain control of her situation in another way. "I tried to treat myself, in terms of my ACL injury," she told me. "I was like, 'Oh, I want to get better faster. How do I make this get better?'"
As a result, Nayak began reading copious amounts of science journalism in order to better understand her injury. Though she had always been somewhat interested in science, having aspired since childhood to become a pediatrician, she says that she went down "a spiral" that summer. "I became more of a bookworm that summer than I had been previously," she said.
When it came to selecting a college, Nayak knew she wanted a somewhat different experience than she had in high school. Her school was notoriously competitive, she said. So Amherst's small, welcoming environment — with one-on-one access to professors — held a particular appeal. "I really liked how tight-knit everything felt," she told me. "I think I came for the community, as cheesy as that sounds."
All It's Worth
When Nayak visited Amherst to see if she wanted to attend, her host-student shared a piece of advice about the Amherst experience: "'You've got to milk it for all it's worth.'"
In her time at the college, Nayak has taken this sentiment to heart.
The first deployment of this philosophy came just weeks after Nayak arrived. Inspired by her injury-induced reading spree, she had been eager to join a student science-journalism publication at Amherst, but she soon came to a startling realization: The college didn't have one.
So she did the only natural thing: She started her own.
The Amherst STEM Network (ASN) is an online publication featuring science-specific content with an Amherst focus, including coverage of professors' research, student theses, and campus events. Since founding it as a first-year, Nayak has served as ASN's editor-in-chief.
Taking ASN from an idea-kernel to fully fledged magazine required Nayak to understand the intellectual and extracurricular climate of Amherst. "I really liked taking people's ideas and trying to coalesce them into a united vision," she said.
Over Nayak's four years at Amherst, ASN has grown tremendously. Beginning with just articles, it added a summer reporting series after Nayak's first year, and a podcast during the pandemic. Nayak even had the opportunity to interview — via Zoom in June 2022 — an Amherst Presidential Scholar: the science writer and ethicist Harriett Washington.
"What I learned from ASN is, if you want to do something, and you put the energy into doing it, that's really all that matters," Nayak told me.
Nayak's reporting for ASN also helped her land her Amherst research gig. Kim recalled that Nayak had asked to interview her about her research, in August 2020, before she had ever taught a class at the college.
"We had a really interesting, engaging conversation," Kim told me.
After the interview, Nayak asked if she could join Kim's lab. The only problem was that Kim's lab hadn't even really been established yet, so they agreed it would be best to wait a little while. But the following January, Kim invited Nayak to join the lab, where she has worked ever since.
The Sky's the Limit
Nayak's request to join Kim's lab, which primarily studies the role that zinc plays in the brain, reflected a narrowing of her academic interests in her early days at Amherst.
"I've just always been very curious about why people behave the way they do," she told me. "And something that's always fascinated me is the idea that some things completely out of your control can determine who you are."
Nayak found this curiosity especially fulfilled during a research internship at the University of Pennsylvania the summer after her first year, several months before she joined Kim's lab.
The project, using rats as its test-subjects, examined the impact of lead consumption by mothers on unborn fetuses. Nayak explained that lead is a neurotoxin that can build up in a mother's bones and, when eventually released, harm the fetuses' developing brains.
"This whole idea that something that happens outside of your lifetime can impact you and who you become … was really interesting to me," Nayak said. "In that research experience, seeing how [this idea] manifests, and how you can find the mechanisms behind that and take some agency to figure out what's going on — that was really cool."
Nayak took her first neuroscience course the next semester and joined Kim's lab soon after that. All of Nayak's remaining research experiences while at Amherst were born out of her work in Kim's lab.
Zinc, which the lab studies, is abundant in the brain, yet tightly regulated, Nayak told me. Nevertheless, its role in the brain hasn't been studied by many researchers.
Nayak brings her particular interest — the impact of environment on the brain — to the Kim Lab's work on zinc. These two pieces of the puzzle came together in a discussion between Kim and Nayak about a research paper Nayak had read. The paper pointed out similarities between how neurons align in the brain and the formation of galaxies. ("It kind of makes us feel like we're living in a simulation," Nayak said.)
The moment was the impetus for Nayak's interest in the overlap between neuroscience and outer space, which would eventually lead into her thesis work.
But first came an internship at NASA. Kim's husband, a researcher at the space agency, was able to help Nayak secure a summer research position with a group studying how biological systems act differently in space.
Drawing on her work in Kim's lab, Nayak specifically examined how zinc-regulating proteins function differently in space, and how this can disrupt the functioning of mitochondria, which are especially rich in zinc.
When the internship ended, Nayak's research in the subject did not. It became a new subject area studied by Kim's lab.
"[Nayak's] also really unusual," Kim said, "in that a whole branch of my research has grown out of our work together." ("Professor Kim and I are both brand-new to the space," Nayak said, "pun kind of intended.")
The work became the basis of Nayak's thesis, which she presented at this year's Three Minute Thesis Festival in a brief talk titled "Spaceflight and Aging: Is Zinc the Link?" In the talk, Nayak emphasized the real-world significance of her work. "My thesis not only establishes zinc as a target that we can [use] to treat and protect astronaut health," she said during the competition, "moreover, it shows us that the [relationship] between spaceflight and aging is not just phenotypic. Maybe there's a mechanism that's shared, with zinc as the link."
This is not the end of this particular project for Nayak. In fact, she has worked over the past months to obtain rodent brain-tissue samples from NASA that have flown aboard the International Space Station. She expects them to be ready for processing this summer, which, in her words and mine, is "really cool."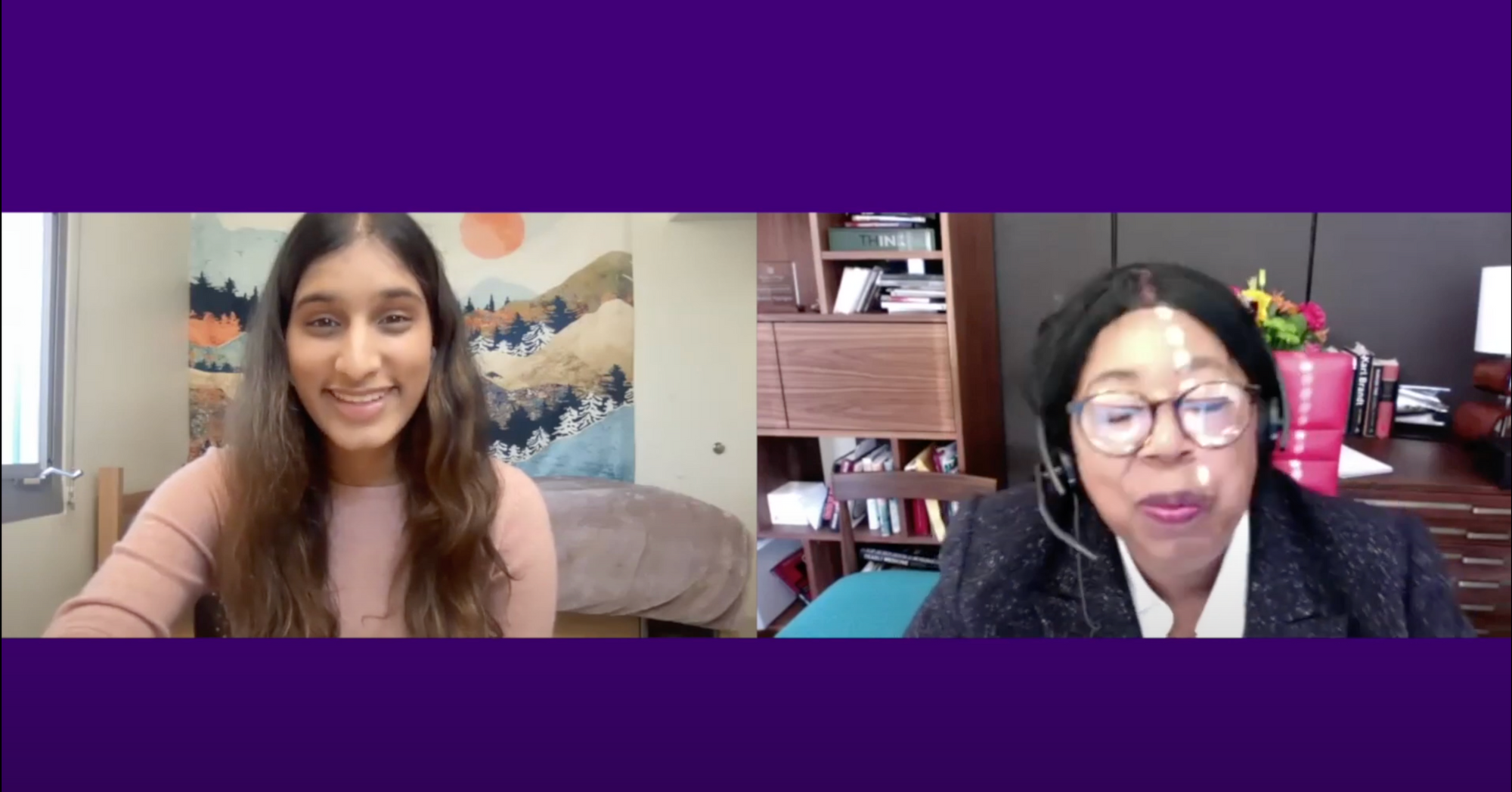 A Side Order of Coconuts
Despite her impressive research experiences, Nayak's time at Amherst hasn't been solely dedicated to her lab-work. Her vision is far too broad for that. She has also directed her indomitable efforts toward solving problems that other people experience.
One such project originated out of a phone call with her grandma, who lives in India. Nayak's grandma told her that there hadn't been enough water for use at the farm her family owns.
Nayak's immediate response: "What can we do? How can we help?"
Her grandma, however, told her not to worry about it. They had contacted a "coconut dowser" who would solve the problem. As Nayak soon learned, a coconut dowser is someone you pay to walk around your land holding a coconut who's supposed to locate underground water pools. Where the coconut rolls off their hands, there's water.
Unfortunately, the spot that the dowser identified, when dug into, didn't contain any water.
But the next day, Nayak happened to attend a seminar from an organization called the Global Water Alliance (GWA), about predictively mapping underground water wells based on differences in elevation.
Nayak reached out, asking if the speaker could teach her the method so that she could help her grandma's family. The spot predicted by the mapping technique was, it turns out, the same identified by the coconut dowser. The problem was that there was a deficit of groundwater in the entire village, not just the farm.
Not one to give up, Nayak initiated a project alongside the GWA to improve the village's water systems. Employing a technique previously used by the GWA, they devised a plan to transition the village from relying solely on underground wells to using a cistern that collects rainwater.
Nayak made contact with a nearby Indian university, whose senior students would actually implement the solution. "I really like the experience because I was able to build these connections," Nayak said. "But also it helps people I care about have access to water."
Upon hearing this story, and about Nayak's research, I couldn't help blurting out, "How do you possibly do all this stuff?" However, I quickly amended this to the much more answerable question "What do you do for fun?"
Nayak assured me that, although she does spend a lot of time in the lab, she still makes room for her social life — with a little help from her friends. "If I find something exciting, I would spend hours and hours on it," Nayak conceded. "But my friends are very good about being like, 'OK, let's go for dinner, let's go have a dance party, let's go play 'Just Dance,' let's catch up.'"
It's clear, too, that Nayak's friends deeply value her in return. For one, Graciela Navas '23 said that what sets Nayak apart is not only "how hard she works," but also "how caring and sweet" she is, as well.
The Horizon
Certainly, Nayak has fulfilled her promise to "milk" the experience of being at Amherst. But in her senior year she had a realization. Between all of her work — from her research, to her side projects, to her academic course load, to her extracurriculars (which now included leading the Neuroscience Steering Committee) — Nayak knew that, at some point, she would have to take a step back.
"I want to have time with my friends, and if I prioritize [these things], I'm not going to be able to," she said she realized. Although it has been a challenge, since then, Nayak has slowed down a little bit, and made time for herself in her final days at the college.
Now, looking beyond graduation, much awaits Nayak at the horizon.
Her immediate plan is to continue her thesis research over the next couple of years. Further down the line, although many people expect her to go to graduate school, Nayak says she's more interested in being a communicator — perhaps a science-journalist — than solely a researcher.
She still wants to keep her side projects going, however.
One project she has in the works draws upon a particular course at Amherst, taught by Professor of Political Science Amrita Basu, whose research focuses on populism in India.
Talking with Basu helped, Nayak said, with "seeing my identity as a South Asian woman not as just something that I'll figure out on my own, but something that you learn about in class. It was something I craved from that spring onward." Nayak would go on to do research under Basu.
Now, upon graduation, she's interested in returning to her home community, which is primarily South Asian, so she can emphasize that "being South Asian is something that is worth discussing in a classroom."
Setting her future plans aside for a moment and reflecting on the past four years, Nayak had a crucial, yet simple, piece of advice: "Just go for it."