This summer, the Supreme Court ruled that colleges can no longer practice race-conscious admissions. Amherst is grappling with the decision's implications, which could result in lower racial diversity among future classes.
The Amherst community is reckoning with the importance of diversity at the college after the Supreme Court this June ruled 6-3 to end affirmative action in college admissions. The long-anticipated ruling found that the race-conscious admissions practices at Harvard University and the University of North Carolina (UNC) were unconstitutional.
Students, faculty, and staff have expressed concern about potential losses in racial diversity at the college.
In an interview with The Student, Dean of Admission and Financial Aid Matthew McGann confirmed that the decision would alter the way that the college reviews applications. "In the past, race and ethnicity were among the factors we could consider," he said. "And that is no longer the case."
However, McGann added that it will take time before the full effects of the decision are clear. "In many ways, we're still coming to understand what the court said and what exactly it means for colleges and universities," he said.
McGann pointed out that affirmative action is just one part of the college's efforts to recruit a diverse class. He referenced many programs aimed at broadening outreach and accessibility, including its no-loan financial aid policy, need-blind admissions, its partnership with QuestBridge to admit low-income students, the fly-in program centered around the experiences of marginalized students, and the decision two years ago to end legacy-preferential admissions and expand financial aid.
Just hours after the decision, President Michael Elliott shared a letter with the community expressing his disappointment. "We remain resolute in our commitment to recruiting a student body that is diverse in all dimensions, in accordance with the law," he wrote.
Chief Equity and Inclusion Officer Sheree Ohen, who assumed her role at the college just days before the ruling, further imparted the college's commitment to preserving diversity. "The diversity of our student body encapsulates the brilliance of diversity of thought, life experiences, and the vibrancy of the student experience in and outside of the classroom," she said.
A faculty response to the decision came on July 18, when all students received an email with a letter signed by 144 Amherst professors, which emphasized the educational value of diversity.
"Because truth is best tested in free and open scholarly discussion, and because the best discussions involve a plurality of perspectives and voices," the letter read, "institutions of higher learning should always insist on the greatest possible degree of diversity in their students and professors."
The college has long advocated the importance of considering race in admissions. In August 2022, the college filed an amicus curiae brief to the Supreme Court in support of the admissions practices under scrutiny at Harvard and UNC. In a press release about the brief, Elliott wrote that the loss of affirmative action would create greater inequity and inhibit the ability of colleges to educate their students.
Amherst is widely regarded as one of the most racially diverse institutions among small liberal arts colleges. Around 48 percent of the college's U.S. students self-identify as people of color, but according to McGann, that figure could soon drop.
"We are concerned that these changes may mean less racial and ethnic diversity in the enrolling classes to come than the classes that have preceded [the ruling]," he said.
This prospect — and the decision itself — has proved troubling for many students, faculty, and staff alike.
"To be frank, I'm sad and I'm disappointed," Aaron Holton '25 said. "I have great fear with overturning affirmative action."
Nick Torres '25 was working as an intern in the college's admissions office when the ruling landed. Even though he had anticipated the outcome, he felt "discouraged."
"One thing that makes Amherst special in comparison to other peer institutions is the fact that we recruit and retain a really diverse student body," Torres said. "By having a diverse student body, you get to hear about different people's lived experiences … I've found that to be very enhancing."
No Amherst student had a more immediate response to the ruling than Jakob Littell '24, who found himself in the Supreme Court's audience at the moment the opinion was delivered. He had taken a bus from New York City to Washington, D.C., and then woke up at 4:30 a.m. to secure a spot in the room. He had no idea that the affirmative action decision would be announced that day.
"Everybody kind of freak[ed] out," Littell recalled of the historic moment.
Once the decision itself sunk in, Littell said, he felt "disheartened."
"Diversity is essential in schools because we want to have diverse leaders, diverse people in business. " Littell said. "Decisions like this might make that harder."
Mikayah Parsons '24, a diversity outreach intern, acknowledged that affirmative action wasn't a perfect system. Under it, she explained, "the capital historically oppressed students have to proffer [to colleges] is our claims to … diversity," which many colleges wish to highlight.
Nevertheless, "at the very least, [affirmative action] sought to right a historical wrong. It gave students the space to share their salient identities," she said. "Perhaps affirmative action wasn't perfect, but what we're left with now is just a mess."
Professor of Political Science Amrita Basu was among the professors crucial to shaping the faculty letter's message. "I think it's important for faculty, who have direct contact with students every day, to tell them how much we value diversity in the classroom and why we value it so much," she said.
In her 42 years at Amherst, Basu said, the college's student body has become increasingly racially diverse. "I've seen how much more stimulating and meaningful and exciting teaching is to a more diverse student body."
According to Professor of Russian Michael Kunichika, another of the faculty behind the letter, one case for the importance of diversity in the classroom is made apparent by the ruling itself.
"There's no shortage of fights and struggles ahead that will need to be taken up by generations of students trained to think and act … to forge new paths toward justice and equity," he said. "Some have closed, others can open up."
Although they were concerned about the decision, some view the end of affirmative action as an opportunity to boost socioeconomic diversity at the college.
"The school is going to have to use more race-neutral means to achieve the same diversity levels they have today, which might encourage them to — as a race proxy — go toward lower-income communities or inner-city communities," Littell said.
"I'm hoping colleges will step up to the plate and figure out ways to keep diversity levels high," Littell added. "They promised us they can do that. I hope they can."
For Torres, the effort to boost outreach is a personal one. He is the founder of The College for All Program, an Instagram-based initiative that helps high-school students apply to college.
"We recognize that this summer has probably been challenging for a lot of underrepresented students," he said.  His organization changed its approach to essay-coaching, shifting emphasis to highlighting the adversity a student has faced as a way to indirectly talk about their racial identity.
"I think we took it in stride and made sure that we were providing resources and support for students who are going to be most impacted by the case," Torres said.
This past Monday, in a speech delivered at the college's convocation ceremony, Elliott publicly addressed the topic of diversity for the first time since the day of the Supreme Court ruling.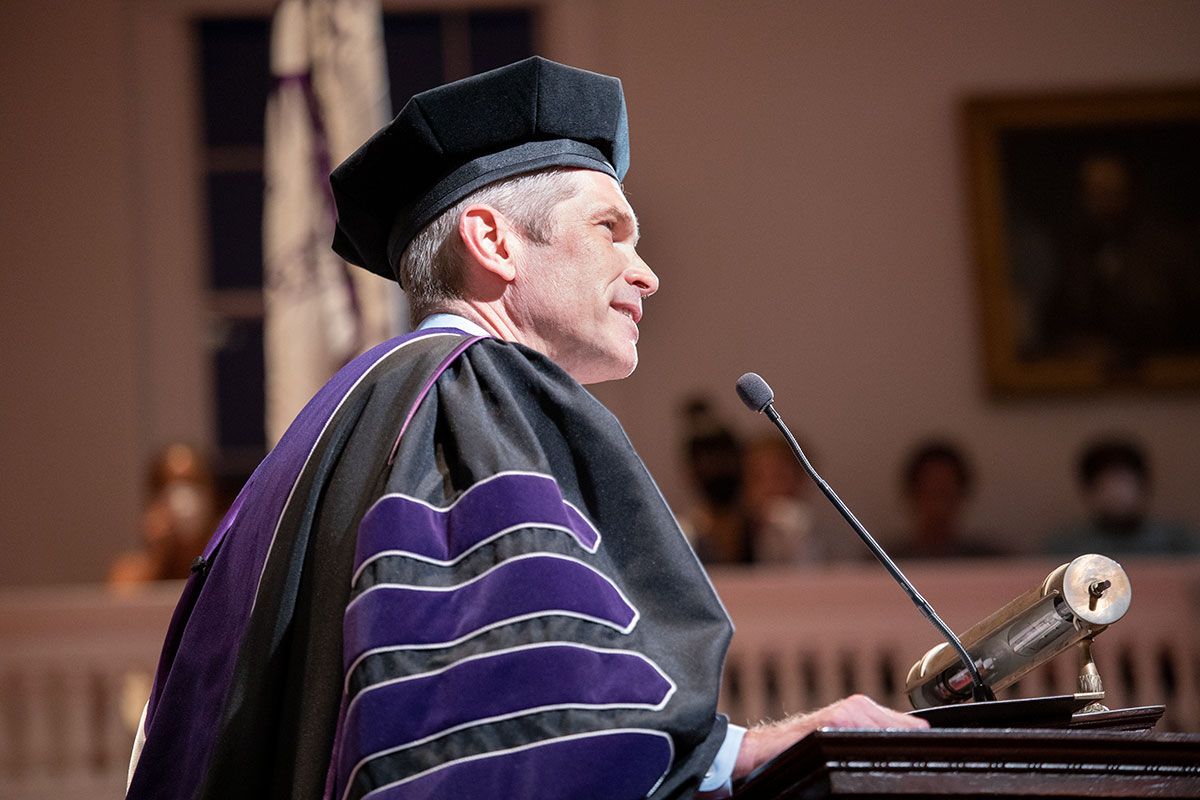 "That loss in court doesn't change our belief that the variety of experiences that you all bring to this campus play a critical role in what you learn and how we teach," Elliott told the Johnson Chapel audience. "Diversity — whether racial diversity or diversity of other kinds — is not just about numbers of students from this group or from that group, but about the way that all of us — all of us as a community — learn and live with and from one another every day."