News
As Val Fully Reopens, Staffing Shortages Limit Options
Valentine Dining Hall returned to full capacity on Oct. 20. While students are ecstatic about the return of lively Val, staffing shortages have resulted in a dearth of food options for students with dietary restrictions.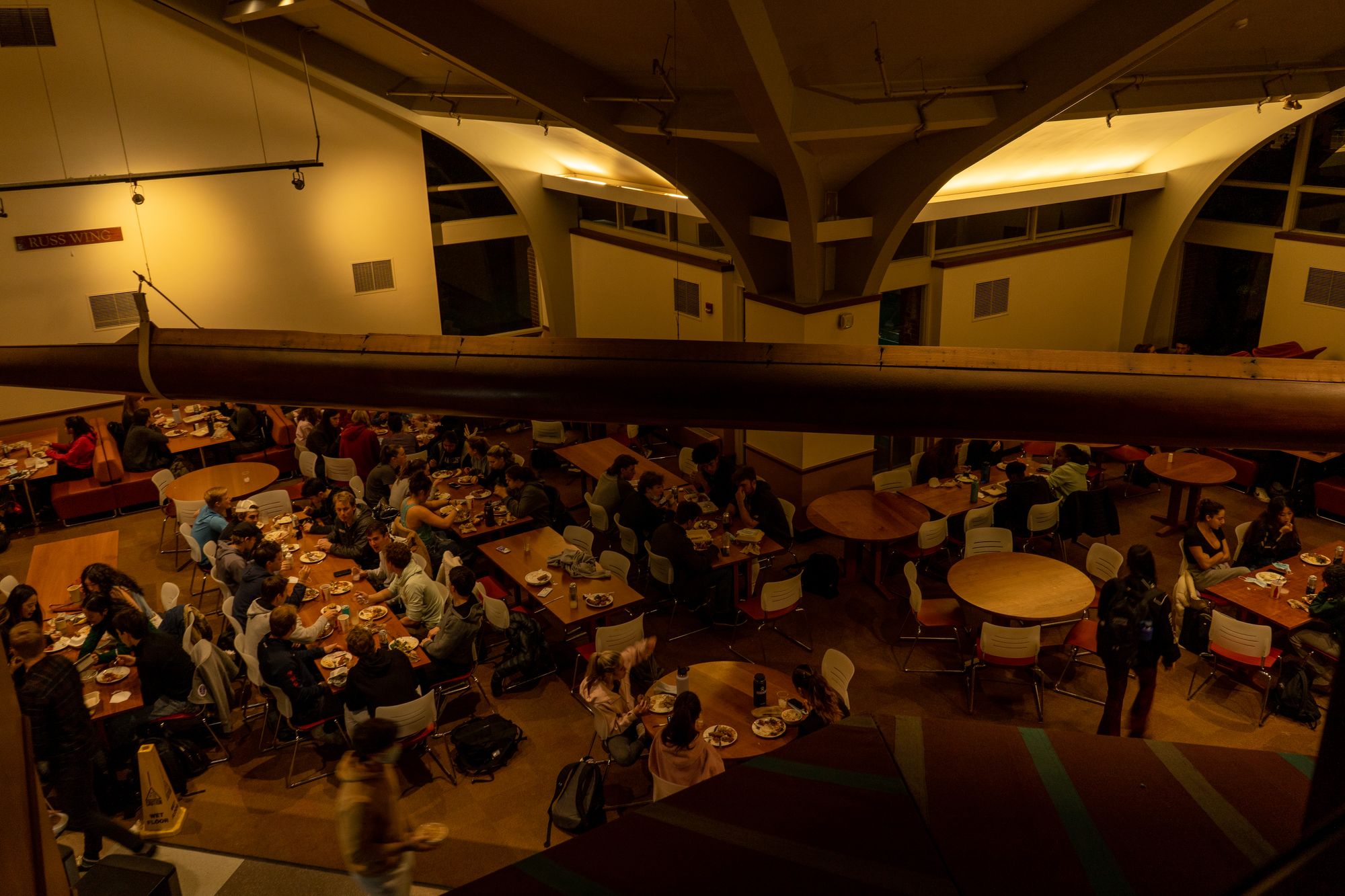 Following the college's loosening of Covid restrictions on Oct. 20, Valentine Dining Hall (Val) has returned to full capacity. The change signals a long-awaited return to normalcy after months of outdoor and to-go dining. Val now holds approximately 750 seats, which underclassmen are able to help fill for their first time at the college. But while students are ecstatic about the once-again lively atmosphere in Val, its staffing shortage has resulted in a lack of options for students with dietary restrictions.
Many students are thrilled to experience dining inside Val at full capacity. Margaret Pearson '24 expressed feeling "super happy" about the change to indoor dining because "just sitting outside in the cold made you feel like you were never really sitting down for a meal."
In a statement to The Student, Director of Dining Services Joe Flueckiger echoed this positive sentiment. "I am thrilled to have students back in Val en masse," he said. "It brings me joy to hear the buzz of students enjoying the space collectively."
The increase in indoor capacity has been accompanied, however, by a more limited menu for those with dietary restrictions. A couple weeks ago, the dining hall eliminated its single-serve, pre-packaged foods — including yogurts and Brekki overnight oats — which many students relied on as supplements to their meals. Flueckiger stated, "Eliminating the cans and other packaged items was very intentional. These past 20 months have been very challenging in terms of the impact on our waste stream. We believed it was time to move back to a more sustainable approach."
Moreover, instead of adding more menu items to the Allergen Free section to compensate for the lack of pre-packaged foods, Dining Services has actually reduced the number of items available. For instance, the chickpea tofu, a protein staple for many vegetarians and vegans, was unavailable two nights this past week even though it was listed on the online menu. Additionally, Val does not offer gluten-free or vegan alternatives for many of its new menu items, such as waffles and pizza. As a result, many students with dietary restrictions now have more limited options than prior to Val's reopening.
Pearson, who eats gluten-free, feels the effects of the reduced allergen-friendly menu. "It's just hard because there are obviously more options for people without dietary restrictions," she said.
Pearson went on to describe how there are even fewer gluten-free options available now than during the height of the pandemic. "Last year, there were sometimes gluten-free pancakes — and yes, now they have the gluten-free waffles and donuts that you can get and put in the toaster, which is great — but they don't [serve] many gluten-free breakfast options [now]," she noted. "More gluten-free carbs would also be nice because there are some times, like Pasta Night, when those just aren't available."
Omisha Purohit '23 also lamented the lack of options available for her as a vegetarian. "Most of the time, there's a vegetarian substitute like tempeh or tofu, but it is often really rubbery," she said. Additionally, like many vegetarians, she doesn't eat eggs, which eliminates yet another protein option from her diet. "My option for protein used to be Brekki, but now that they don't have those, I will literally get a cup full of beans or chickpeas and just eat those plain because I still want a sizable amount of protein."
Purohit explained that having such a small selection of food to eat takes a toll on her mental health. "Eating good food keeps you healthier and helps you work better," she said. "It's really frustrating because a lot of times, if the food is bad, I just don't go to Val and rely on ordering food or eating things that I might have in my room. So there have been times where I just don't go to Val for two or three days."
The college's new Menu Coordinator and Nutritionist Megan Scutti is hoping to reduce students' stress surrounding food. She told The Student that "our team also acknowledges that we have plenty of room to improve and not only add more pre-Covid options but new options as well."
Scutti specifically addressed the large amount of student feedback regarding the lack of vegetarian and vegan protein options: "Dining Services wants to make sure that the students here at Amherst know we did not take these complaints lightly. Immediately our staff reworked the upcoming week to increase the amount of vegetarian [and] vegan options in general. We are working on ensuring that moving forward there will be a larger variety." She noted that students' concerns about gluten-free options are also on their radar and that they are working on how to best increase options while avoiding cross-contamination.
Val's limited menu at this point in the semester is mainly a consequence of the dining hall not being fully staffed, added Flueckiger. He noted that Dining Services is currently short about eight people at 40 hours per week, or 320 work hours each week. "Everything we do comes with added workload, so we have been opening up additional options as we have been able to hire more people," he said. "As we get closer to full staffing we will be able to increase what is offered."
Pete Charron, a Dining Hall Supervisor at Val, commented that the short staff has only been strained further by the new responsibilities that come with fully opening up the dining hall, making it more difficult to offer a full array of options. "Since there are a lot more people, there are just a lot more tables being used and food being served, [and thus] many more dirty tables and floors that need to be cleaned," he said. "I think that our staffing is always a concern in regards to being able to supply demand properly."
Even though the staffing issue may not be resolved in the immediate future, Scutti and Flueckiger both pointed to some improvements to the menu that will be made soon, including the implementation of a new fountain beverage machine specifically for flavored sparkling waters and the reintroduction of flavored waters made in house. Additionally, the stir-fry station has been made available again as of Tuesday, Nov. 2.
In the meantime, until Dining Services is able to hire more employees, some students just hope for more food options they can eat. Purohit posited, "For the last couple years through the pandemic, I get that there were times when it was just not possible for them to provide allergen-friendly options. But I feel like now that life has sort of gone back to normal, they should start providing those alternatives, but they haven't. I feel like if there were more options for me to eat, I would just do better in every regard."