News
College Observes Sexual Assault Awareness Month
All April, the Peer Advocates for Sexual Respect have held a series of events to promote prevention and awareness of sexual assault. They aim to actively address root causes of sexual violence's harm, build skills around sexual violence prevention, and provide solidarity and support to survivors.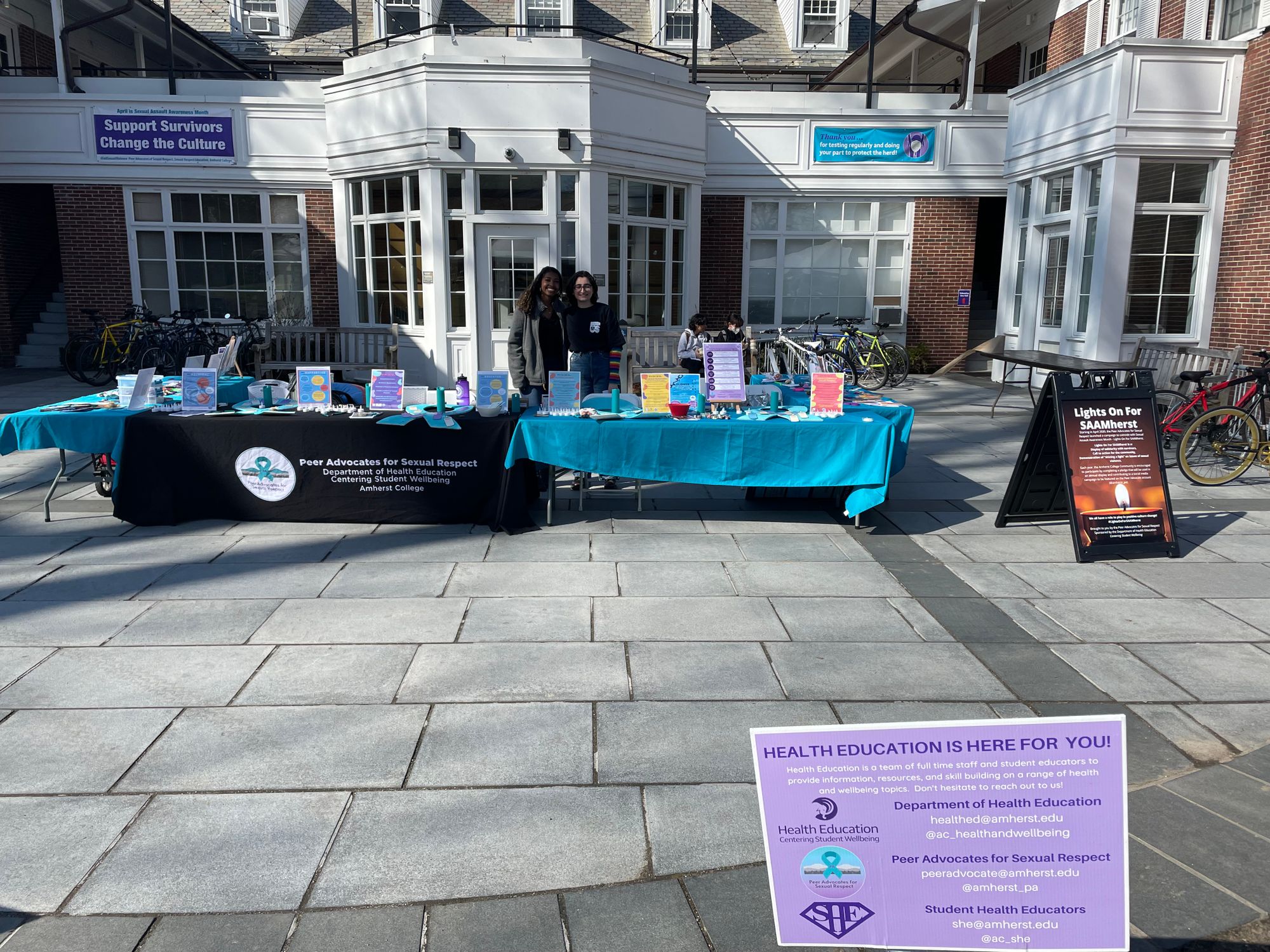 On April 1, Peer Advocates for Sexual Respect (PA) hung a banner reading "Support Survivors, Change The Culture" in front of Valentine Dining Hall (Val), commencing the ninth year of Sexual Assault Awareness Month (SAAM) and comprehensive sexual violence prevention programming at Amherst.
SAAM was first nationally observed in 2001, and since then, coordinated campaigns, events, and marches have been held throughout April on campuses and communities across the country. At Amherst, more robust and coordinated SAAM efforts have been implemented and streamlined since the 2013 hiring of Amanda Vann, the college's first full-time sexual respect educator and current director of health education.
At the moment, Sexual Respect Education at the college is overseen by the Department of Health Education, and is executed by Sexual Respect Educator Lauren Kelly and the PAs.
Each year, the PAs hold a series of events throughout April to promote prevention and awareness of sexual assault. SAAM events the PAs have hosted this year include the Frost Library SAAM Book Display, Empowered Yoga: Resiliency & Survivor Support, Decolonize Your Thirst: Video Podcast Screenings & Discussions, Sexual Respect Drop-In Hours, and Confidential Drop-In Survivor Support Group.
These events aim to actively address root causes of sexual violence's harm, build individual and collective skills around sexual violence prevention, and provide solidarity and support to survivors, said Kelly.
A highlight of the programming was the Lights On for SAAMherst event, which took place on April 5 outside of Val from 2-8 p.m. PAs stood behind a table adorned with T-shirt pins, stickers, and other give-away items with hashtags #ItsOnUS alongside other motivational call-to-action taglines that said "Do Something" and "Embrace Your Voice." Students who stopped by were asked to make a community promise about promoting sexual respect.
PAs Guan Liang '25 and Sarah Sobh '25 explained the inspiration behind the event. "We believe that events like Lights On for SAAMherst force people to actually reflect on their own relationship with sexual respect," the pair stated. "When April comes around, we try to put sexual respect education at the forefront of people's minds and encourage them to engage with survivor support and education programs."
According to Sexual Respect Educator Lauren Kelly, 593 Amherst community members participated in the event, almost double the 305 who participated last year. Four hundred fifty-eight of this year's participants pledged how they would promote sexual respect in the community. Among responses, one message sent encouraging messages to survivors: "They are stronger than they believe and more loved than they know." Another message reminded the community about people's equal treatment regardless of what they have been through: "Treating others with the respect they reserve, no matter what experience." This year's responses are displayed in the Keefe Campus Center Atrium. "The purpose is to remind everyone of our individual and collective responsibility in creating culture change," Kelly told The Student.
"I'm truly grateful for the participation of students on campus," Kelly said. "It really means a lot not only to all of us who were planning this event but also to students who really need our support. I hope more and more will join in this movement with us, so students can feel protected from their experiences and their voices."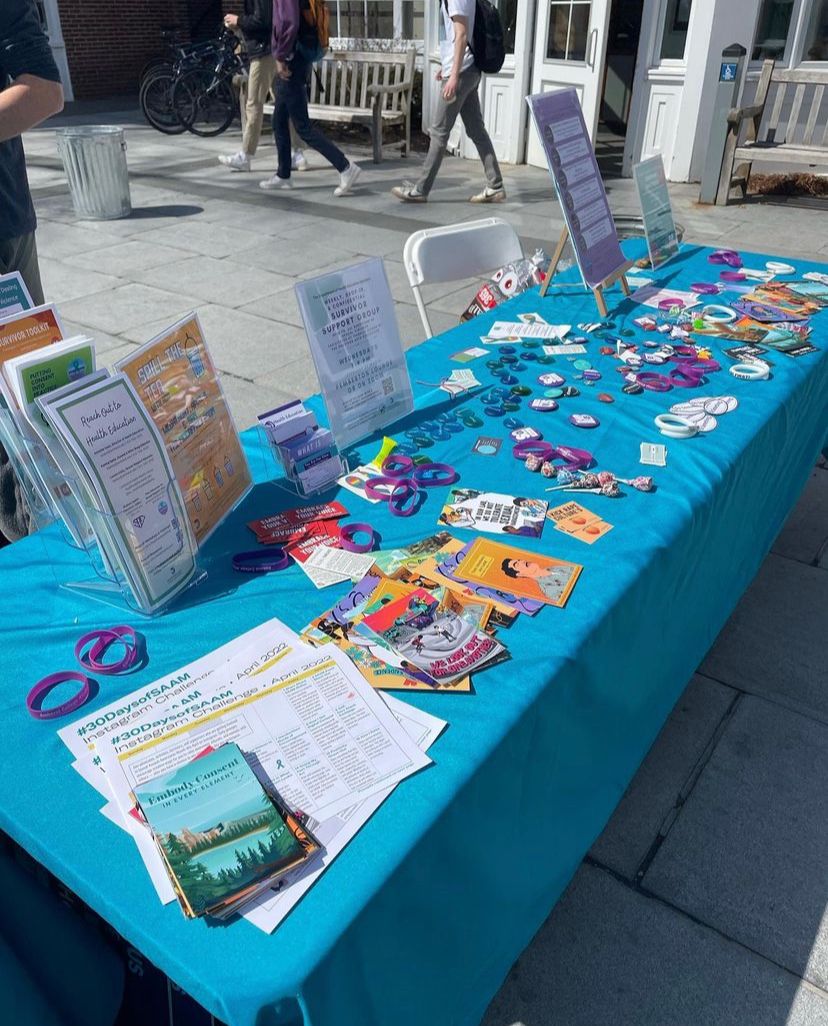 Emily Byers '25, a participant in the Lights On event, said that she appreciated that the table was in the central area right in front of Val. "This is the only way I would have seen it. I'm glad that [the issue] has been treated as an important topic and not something to be hidden away inside a building." In response to this year's prompt "How is your light on to promote sexual respect within a community?", Byers emphasized the importance of "listening to friends and people around yourself while not being afraid to call out people and actions that make you feel uncomfortable."
Sophie Durbin '25, another Lights On participant, appreciated the event's "focus on [an] installation that includes different student experiences and connects students with the resources that they need."
Kelly said that it was "rewarding and extremely powerful" to see members of the college community actively engage in promoting a culture of sexual respect. "One of our slogans is 'No one has to do everything but everyone has to do something' — it is encouraging when I see members across our community come together to lift up the work."
This year's SAAM comes in the wake of heightened campus conversations on sexual assault and misconduct, largely due to the Instagram account @amherstshareyourstory, which posts anonymous accounts from survivors. In response to the account, President Biddy Martin announced the launch of a comprehensive review of sexual assault on campus.
"Every story is heartbreaking, and therefore it is on all of us — through individual and collective action — to create a culture that supports and uplifts survivors," said Kelly.
Kelly commented that SAAM strives to do work that goes beyond raising awareness about sexual violence. "Rather than using a comprehensive prevention approach, we address root causes of violence, examine the role that power and systems of oppression play, and provide skills and strategies to promote healthy interactions and communities," she said.
Kelly attributed the success of SAAM to its sponsorship by the Health Education office and the hard work of PAs.
"In our office, we have incredible student leaders through the Peer Advocates who are committed to supporting survivors, teaching their peers to be active bystanders, and promoting sexual respect in their community," said Kelly.
The 24-Hour Healing Fire, SAAM's traditional closing event, will take place on the First-Year Quad from April 28 at 1 p.m. to April 29 at 1 p.m. The event partners with the Native & Indigenous Students Association and the Five College Native American & Indigenous Studies Program.