Homecoming
Football and Far More — Alumni Profile, Jean S. Fugett, Jr. '72
From the football field to the legal domain, the through line of Jean Fugett '72's multifaceted career has been an unwavering work ethic and passion for each pursuit.
From the Dallas Cowboys to the Washington Football Team to the business world and more, there is little Jean Fugett '72 hasn't done. His impressive career stretches through a multitude of fields where he has ended up on some of the largest stages in the public sphere. Behind it all: drive, passion, and gratitude for every opportunity that comes his way.
Journey to Amherst
A Baltimore native, Fugett attended Cardinal Gibbons High School. Having skipped the seventh grade, Fugett started high school at the age of 12, ultimately setting him up to start Amherst at the age of 16 in 1968. He began playing football seriously as a senior in high school, going on to become the first Black athlete to win the award of Baltimore Catholic Athlete of the Year. Though he gained the attention of notable football coaches at Rutgers, the University of Pennsylvania, and notably the College of William & Mary — where Fugett would have been the first Black athlete at the college — the beautiful Western Massachusetts setting and warmth of the Amherst community ultimately drew Fugett to the Pioneer Valley.
Recalling his first visit to campus, Fugett explained, "When I walked to Memorial Hill, and saw all of those fields and those mountains, there was no doubt in my mind. I knew Amherst was ranked well and that the coaches cared about me and that it was just a great place."
Fugett was recruited by coach Tracy Mehr — assistant coach of Amherst football for 36 seasons — and famous head coach of Amherst football for 33 years, James Ostendarp. Mehr and Ostendarp had a significant impact on Fugett, one that extended past his time at Amherst: "they were very important to my entire life," Fugett expressed.
Life at Amherst
Among his many activities at Amherst, Fugett was an integral member of the basketball and football teams, editor for the Amherst Student, and even host of a campus radio show during his first year — an experience Fugett said kick-started his interest in broadcasting.
Reminiscing on his Amherst years, Fugett shared one particularly exciting story about an Amherst vs. UMass basketball game in which he would play against someone who would later become a household name. Prior to the game, Fugett was told he was going to "get [his] comeuppance" at the game because he would be going up against one particular, highly skilled UMass player. People jokingly said the UMass player would "eat [Fugett's] lunch," — meaning his opponent would outcompete him with ease. Commenting on the experience further, Fugett said "to make a long story short, I [asked], 'What's his name?' They said 'Julius Erving' … and needless to say, I played against Dr. J. We became fast friends and have been friends ever since. That was a pretty remarkable experience." Dr. J wasn't the only notable person Fugett met during his time at Amherst: "Ken Burns used to eat with us. He went to Hampshire. So I met Dr. J, Ken Burns, and David Eisenhower, and this was all just in four years," Fugett excitedly said as he shared some of his favorite Amherst memories.
On top of his extracurricular involvement, Fugett completed an independent study in which he spent a year researching his family's history. Inspiring and supporting his independent study was History and Black Studies Professor Asa J. Davis. Davis had a deep impact on Fugett: "Professor Asa J. Davis was the first Black Studies professor and it really wasn't Black Studies because we didn't have a department. And he really influenced me. He had taught at San Francisco State University, he spoke Portuguese, he was interpreting African stuff from Brazil. When he came into class and said that there were royal kingdoms in Africa with gold and jewels while people were still living in caves in England, no one had ever said that to me before. I had never read that before. And that told me that I wanted to find out about myself." Over the course of his collegiate independent study, and ongoing research to this day, Fugett has uncovered an extraordinary family history, discovering — among many things — that his grandfather was a notable educator and his grandmother had contact with Booker T. Washington.
In conversation with Fugett, his love and pride for Amherst is palpable. He expressed how much he valued his time on campus and cherished the experiences he had here, especially on his athletic teams.
"You never forget your teammates. To have that relationship and be in the locker room, that's special. And that's what I miss the most." Fugett says. For Fugett, being on a team is like being a part of a family. "My family's gone now and I'm not on a team anymore. I just really miss it." Experiences like playing against Julius Erving, being coached by top figures like James Ostendarp, and having access to all the resources Amherst has to offer made for a special college experience, one Fugett is very grateful for: "I've been so fortunate to be educated," Fugett expressed.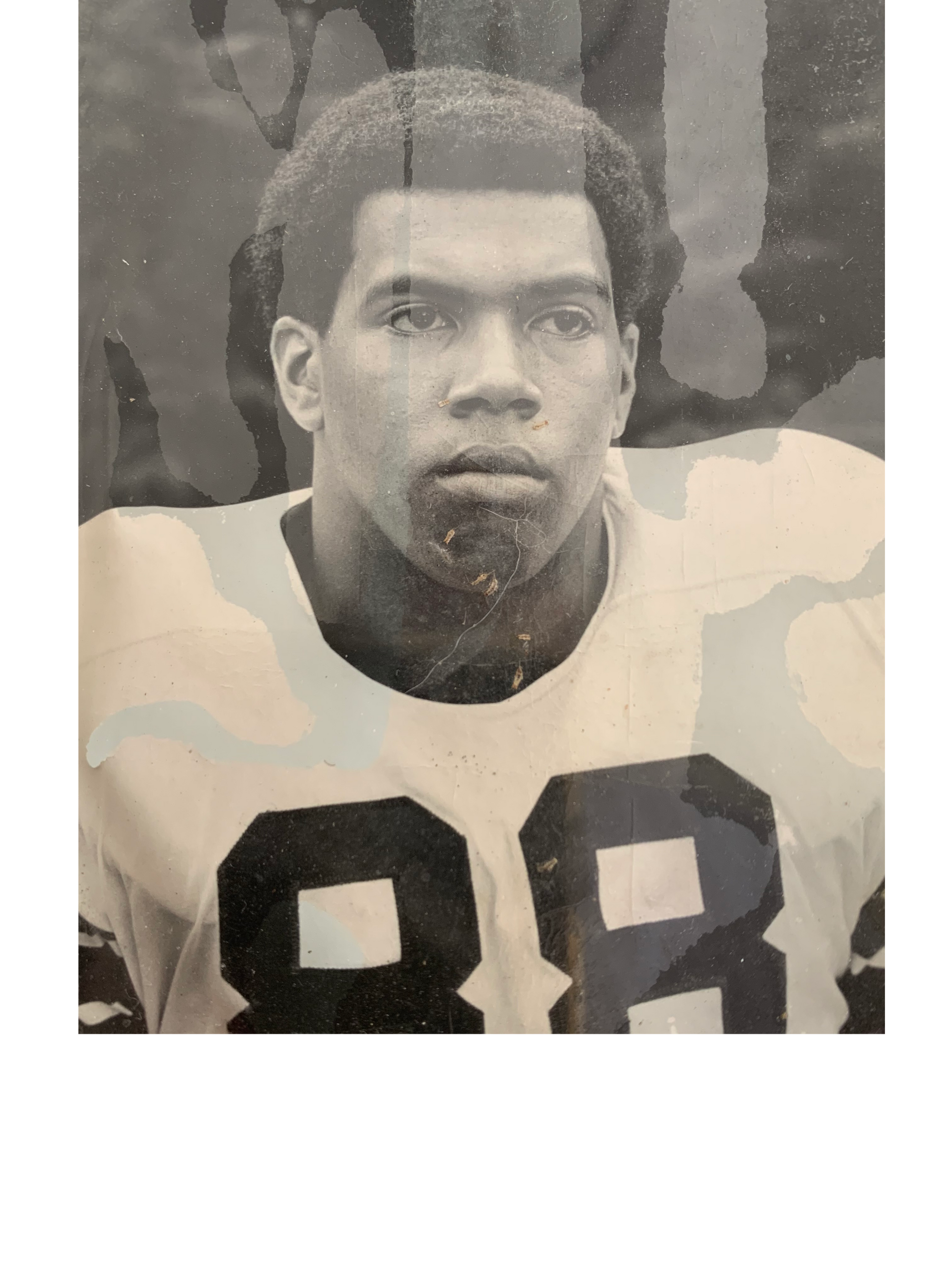 NFL, News and More
Small Division 3 conference games in Western Massachusetts are not the typical training grounds for going pro. Not so for Fugett, who ended up in the NFL after Amherst. "I didn't expect to make the team," Fugett says about his transition to the NFL. "I was the 358th player pick — the last in the thirteenth round — drafted by a championship team that had a Hall of Fame player at the position. So I figured this would help my writing career because I was going to be able to tell stories for the rest of my life that I was with Roger Staubach and Calvin Hill at the world champion Dallas Cowboys training camp and I would get cut."
Impressing the Dallas Cowboys coaching staff with his ability to memorize and effectively implement the playbook, Fugett made the team as a backup tight end and had the opportunity to be coached by the famous Tom Landry. In the years that followed, Fugett would go on to play in Super Bowl X for the Cowboys against the Pittsburgh Steelers, as well as become a union leader, fighting for free agency in the league. When asked about his favorite memory in the NFL, Fugett recalls, "I had so many but clearly going to the Super Bowl and having the chance to be the best." While the Cowboys didn't win that year, Fugett looks back fondly on the experience, even joking that "though we didn't win, we had Willie Nelson at our party. I don't know who the Steelers had."
The NFL wasn't Fugett's only venture after college. Upon graduating Amherst, Fugett had set his sights on pursuing a J.D. and by the time he started in the NFL, he had been admitted to Columbia Law School and was waitlisted at Harvard Law. After signing with the Washington Football Team in 1976, Fugett began attending school at night in pursuit of his law degree from the George Washington University Law School. While balancing his law school curriculum, Fugett had a successful season with the Washington Football Team and was ultimately selected to the Pro Bowl in 1977.
Looking back on his time with Washington, Fugett expressed how much he valued the experience of being challenged everyday. He elaborated: "As a union leader for seven of my eight years [in the NFL], I was tested even more so and the greatest honor — not the Pro Bowl selection — the greatest honor of my football career was signing with the Washington Football Team. Upon signing, the Washington Football Team had more former player [political] representatives on their team than any team in the league. They were [union members] and George Allen liked them because they were leaders."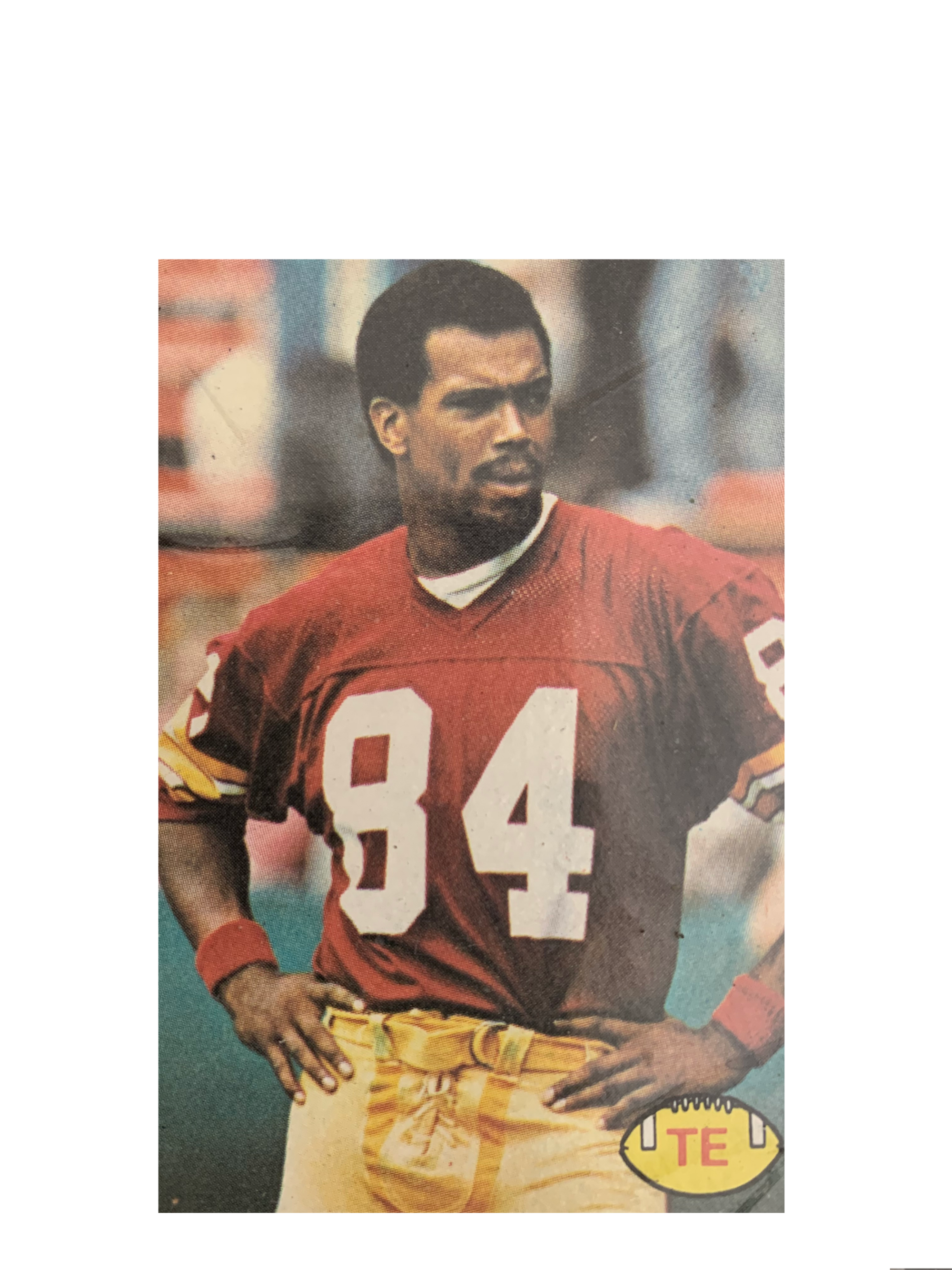 Fugett's presence both on and off the field earned him opportunities in journalism— a lifelong area of interest for Fugett after his early experiences as an editor for the Amherst Student and intern for the Baltimore Sun. During his career in the NFL, Fugett worked as a reporter for The Washington Post and anchor for CBS broadcasts. After his football career ended, Fugett entered the business world. His notable career endeavors include helping his brother found TLC Group, serving as the Director and Vice-Chair of the McCall Pattern Company Management Committee, running TLC Beatrice International Foods, and starting a law practice.
After sitting down with Jean Fugett, one thing is abundantly clear: whether it's on the field, in the newsroom, or in the business world, Fugett is someone who welcomes a challenge and not only rises to the occasion but sets the bar even higher.