Arts & Living
"Memories from Home": An International Student Art Exhibition
Last week, "Memories from Home," an international student art showcase, opened on the second floor of Frost Library. Staff Writer Florence Doyle '26 and DEI Editor Erin Williams '26 cover the exhibition's launch party.
"Memories from Home," an art exhibition showcasing the works of international students, opened on April 25 and ran through April 30. The exhibition, co-organized by Snigdha Ranjan '25 and Venumi Gamage '26, had submissions ranging from articles of clothing and family recipes to poetry and photography.
Held on Frost Library's second floor, "Memories from Home" featured hors d'oeuvres, free drinks, and live music from Quentin Jeyaretnam '23, Daniel Flores Garcia '24, and Camila Bonilla '26. Ranjan said that the Frost venue was a "happy coincidence" following a difficult search for a location that could host the event. She was originally hoping to secure either Fayerweather Hall or the Mead Art Museum, but Frost ended up working in the event's favor, lending a built-in audience of students studying on the second floor.
Students milled around the space, viewing a range of submissions, which included mittens from Canada submitted by Clara Danhof '25; paintings by Anya Zak '25 of her hometown ofTarusa, Russia; and a family recipe for crab bee hoon soup submitted by Adele Teo '23. Some of the submissions were interactive, like a roof tile from a building damaged in the atomic bombing of Nagasaki, Japan, submitted by Imari Yasuno '26, and a photography zine submitted by Em Salas '24.
Shortly after the event began, opening remarks were given by David Ko, director of the Center for International Student Engagement (CISE). Ko spoke about his own complex experiences as an international student at Emory University. Following Ko's speech, Ranjan and Gamage welcomed everyone to the event and introduced four international students, who spoke about their submissions and experiences.
Jeff Zhang '25 spoke about his photography. Each of his pictures in the exhibition featured a different location that carries significance in his life. The photos were taken on his FujiFilm Tiara with 35mm film, which he bought after watching the film "Love & Pop." The first three photos were taken during his time in London, where he attended high school. Two of these were of a man dancing and holding up traffic on a crowded street while amused onlookers stood taking photos and videos of him. The other photo was of a station in London. Zhang also took a photo  of Braemar Hill in Hong Kong, which he passed on his way to school every day. According to Zhang, the photo was meant to represent "resilience.". Some might have considered Zhang's final photo, one that he took of his room in Cohan Dorm, odd considering the rest of his submissions, but Zhang remarked that Amherst, like all the other places he has lived, is special to him, too.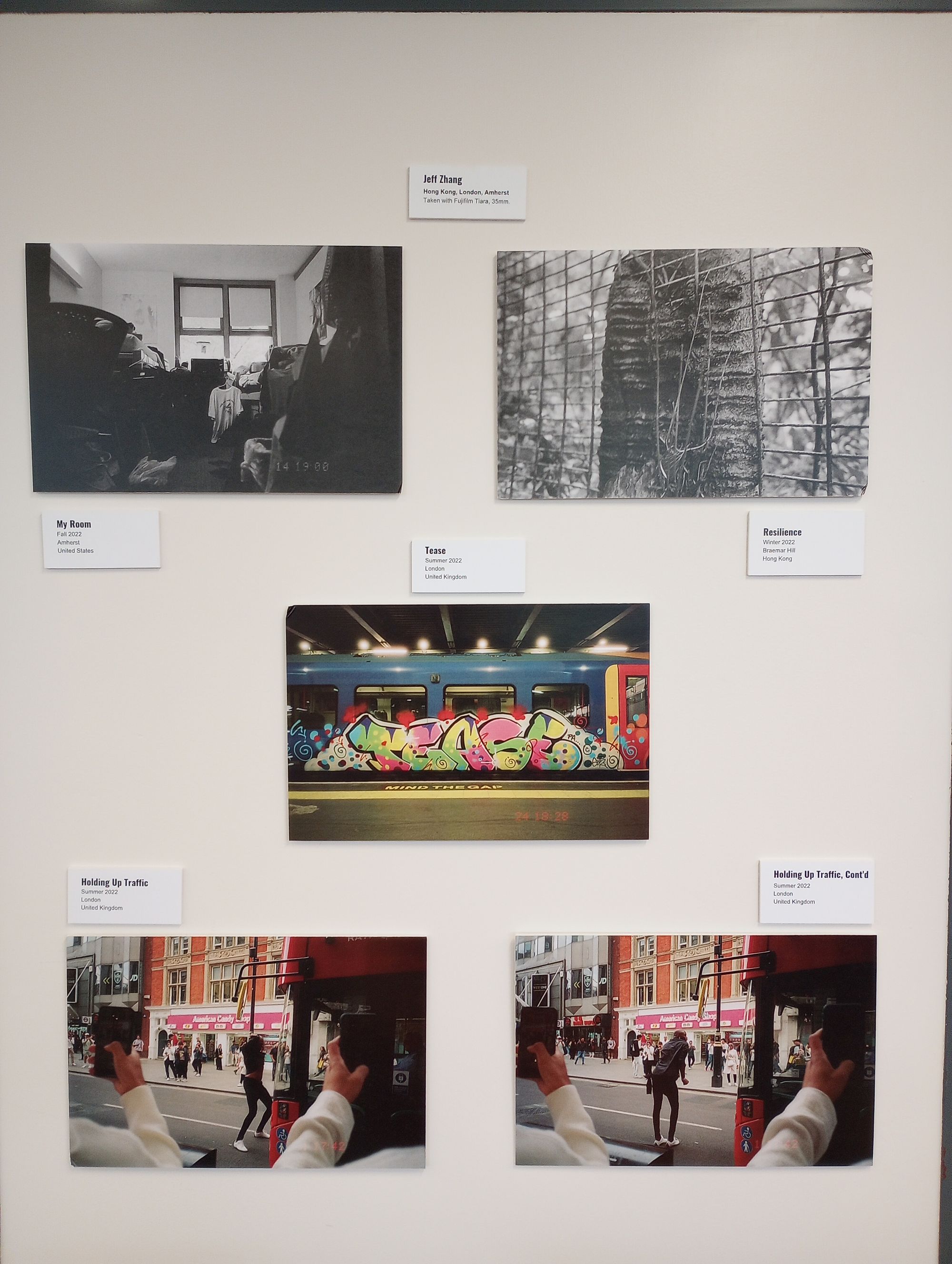 He was followed by Yasuno, whose submission was a roof tile recovered after the atomic bombing of Nagasaki. There, Yasuno participated in nuclear peace activism and interviewed atomic bomb survivors. One of them, a museum administrator at the elementary school that had been bombed, gave the tile to Yasuno to bring back to the United States. He wanted to preserve memories that others wished to erase, and giving the tile to Yasuno was one way to ensure that the tile's story would be shared.
Haoran Tong '23 was last to present, detailing the story behind his submission, which included a poem written in calligraphy and a photo of the Forbidden City historical site in his home city of Beijing, China. Tong shared his experience of being shaped by feelings of distance and solitude, and how many international students "don't realize where our home is until we discover a place we don't call home." Tong's submission contained several elements of cultural crossover, including a poem written in Chinese on paper meant for Western drawing, using a pen he got from the Science Center. The poem was composed after watching the sunrise at Book and Plow Farm following the Mid-Autumn Festival.
Tong's experiences echoed Ranjan's, who also spoke about navigating the new "international" identity that she received after coming to Amherst. Although CISE is still new and, in Ranjan's words, "shifting to establish [its] place and give more space to international students on campus," she expressed hope that "Memories from Home" would be a recurring event, allowing future international students the opportunity to express their identities and take up space on campus.