Men's Squash Finishes Third at CSA Nationals
After a fifth-place finish at the NESCAC tournament, the men's squash team finished the year off strong, taking third place at the 2022 Summers Cup.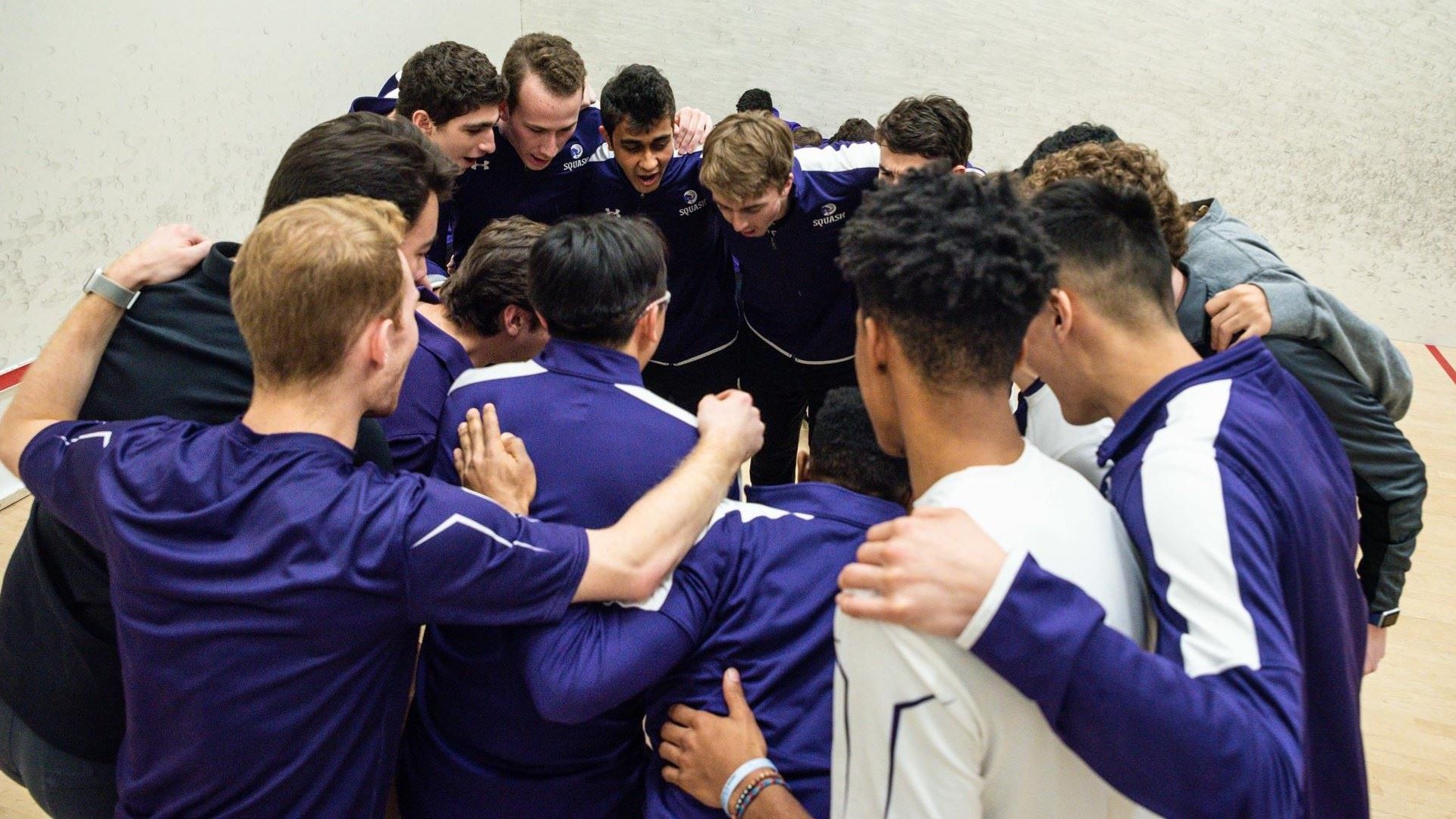 The Amherst men's squash team finished the regular season ranked 20th nationally with a 10-8 record. This qualified them for their second consecutive Summers Cup — the C division national tournament — this time earning the third seed at the tournament.
The draw placed the Dickinson College Red Devils against the Mammoths in the quarterfinals. The Mammoths' earlier season match against the Red Devils was a nail-biter through and through, driven by the bottom of the ladder's dominance and featuring an incredible comeback from captain Charles Sutherby '23E to close out the match in stunning fashion and bring them their 5-4 victory.
The quarterfinal proved to be a similar match-up. While the Red Devils' Nicholas Serna and Omar Ali again overpowered the top of the Amherst ladder, the bottom of the ladder's domination continued with sweeps from Nate Mossé '23, Matt Granovsky '25, Andrew Leung '23E, and Pavan Nagaraj '22 leading the team to another 5-4 win. In the third seat, Neal Malani '24 was able to hold against his opponents' attempt at a reverse sweep. Their final game went back and forth numerous times, until Malani secured the 17-15 win.
After their quarterfinal win, the Mammoths faced a hot Navy team in another rematch from the season-opening day in Philadelphia. November's match presented an excellent example of the team's ladder depth, with the Mammoths sweeping seats six through nine. Additionally, Kedar Nagaraj '24 played his heart out in an hour-and-a-half-long thriller to earn his first win for Amherst en route to a 6-3 victory.
While the younger Nagaraj brother was again able to cleanly win his match, the bottom of the ladder was unable to recreate its previous glory. In an almost hour-long game, Abhi Gupta '25 fought hard to come back from a 2-1 deficit, but was unable to put away his opponent in the final game. Still, dominating sweeps from Robinson Armour '23E, Leung, and Pavan kept the team in the match.
The matchup came down to Mossé. He began with an easy 11-6 game to bring it to 2-1, but Navy's Lucas Spiro eagerly sought to finish him off in the fourth game. Mossé had to fight off two match points but was eventually able to equalize, bringing the thriller to the fifth game. Starting the final game in dominating fashion, Mossé led 6-2 at one point, but Spiro was able to fight back, taking the final game 12-10. His win sealed a 5-4 win for Navy.
Mossé has already had a couple reverse sweeps this season, so when he found himself facing a 2-0 deficit, with the match depending on him, there was little doubt his mental game could bring him out of the hole. "When things get intense and the match gets close, we have a saying on our team, 'big smiles,'" he said. "Reminding yourself to smile and enjoy the game in the big moments helps relieve some of the pressure and you're able to have more clarity on court."
The difficult loss to Navy placed the team in the consolation bracket, fighting for third place against the No. 1 seed, St. Lawrence University. Nevertheless, the match ended up being no less thrilling than the previous two. Adam Lichtmater '24 and Gupta both lost their first games, but each rallied to 3-1 wins in the second and sixth seat, respectively. In the ninth seat, Pavan secured his third win in a row with another sweep. Granovsky found himself in another hour-long thriller, after coming back from a 2-1 deficit, but was, like Mossé against Navy, on the wrong side of a 12-10 fifth game. Mossé found himself in another win-or-go-home situation, and again tried to climb out of a 2-1 hole, this time coming out victorious with an absolutely dominating 11-3 final game. With the score at 4-4, a third place finish rested on Leung, who had not lost a single game in the tournament until this point. St. Lawrence's Jack Turvey broke Leung's streak to take the first game, but from there, like Lichtmater and Gupta, Leung won the next three games, including one by a ruthless 11-1 score, to clinch third place at the Summers Cup for Amherst.
Reflecting upon his first season on the squash team, Gupta stated, "I'm really proud of the games we won, and believe we will come out even stronger next year."
Veteran Rohil Bathija '23 echoed this sentiment, saying, "one thing that was prevalent this weekend was how much of a team we are and how much we all want to fight for one another regardless of what is happening in our own games." He continued, stating, "This type of culture is one that we want to keep developing to make us an even more tenacious squad come next year."
With numerous rising talents, squash fans should look out for Amherst in the coming season.