commencement
Sophie Koh: A Drive for Inclusion in Intellectual Spaces
Sophie Koh pursues her intellectual passions with a higher purpose. Her commitment to cultivating inclusivity encourages us all to contribute to meaningful change in the spaces we occupy.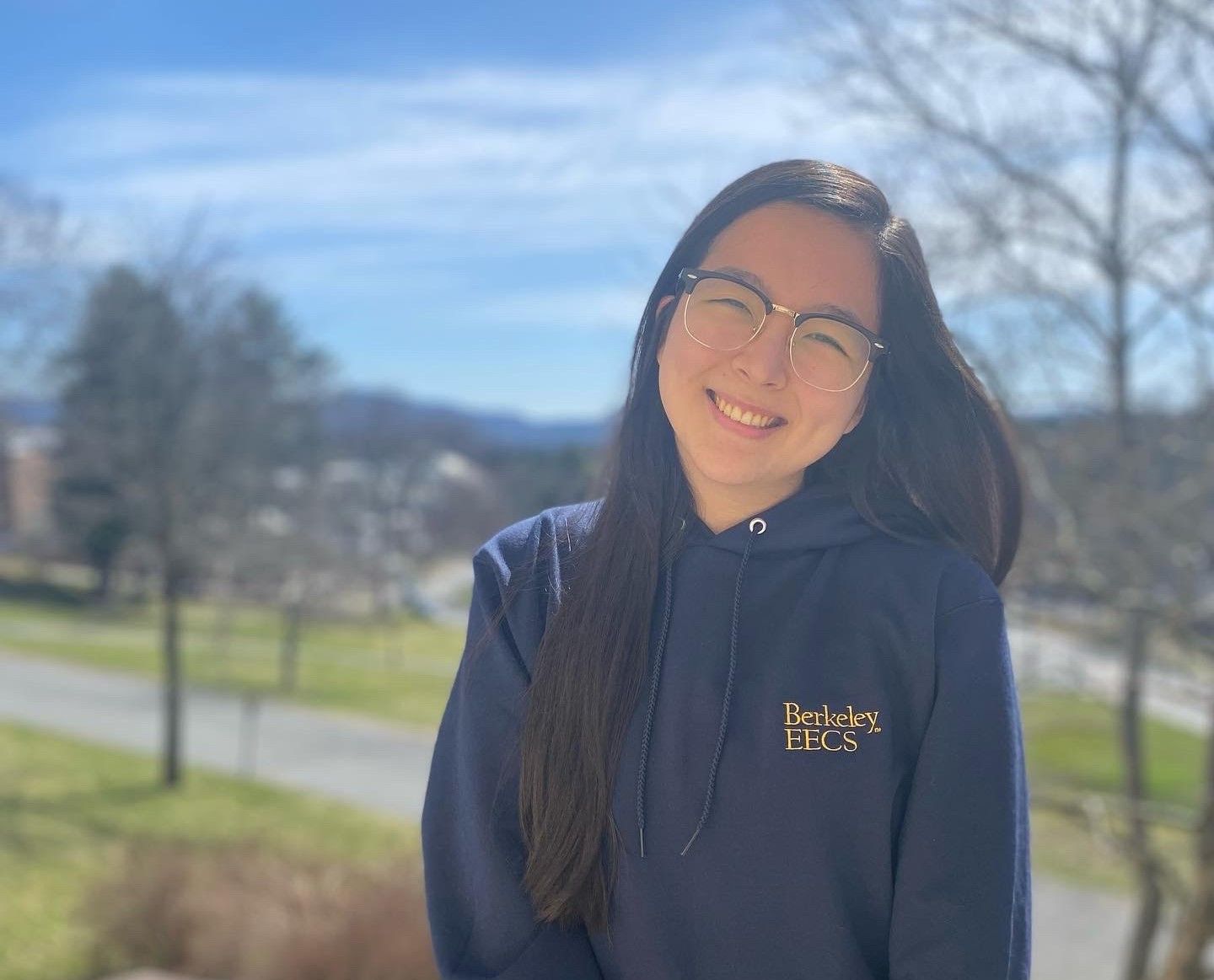 From her work in the physics and computer science departments to her involvement in Electronics Club, Dance and Step at Amherst College (DASAC), and more, Sophie Koh's '22 engagement within the Amherst community has been extensive. After sitting down with her, one thing became abundantly clear: For Koh, her time at Amherst has been an opportunity to not only explore her passions, but to use them as avenues for change — to enter spaces and challenge the traditional molds they promote.
Coming to Amherst
Koh grew up in Northern Virginia, where she attended a magnet high school for STEM. Describing herself as an "engineering-minded person for as long as I can remember," Koh initially focused her college search on schools offering engineering programs, like the University of Virginia. After visiting Amherst for Admitted Students Weekend, however, Koh found herself drawn to the liberal arts education and small community at Amherst.
Upon arrival at Amherst, Koh appreciated the intimacy of small class sizes. "It's weird to be in a place where professors automatically know your name. It was nice for me because I guess I stood out by nature of it being a small place," Koh explained.
While positive in many respects, Koh's transition to Amherst also came with its challenges. Amherst was a much different environment than what she was accustomed to. "My high school was majority Asian, so I went from somewhere where I had a lot of people that looked like me to the Amherst physics department, which is notably smaller and [where] I would be [something like] one of two Asian women in the class," she reflected. "I think that was a big transition for me, going from being in the majority to being in the minority, and being able to blend in to automatically being singled out the second you walk into [a] space."
As a result, Koh explained that she felt a considerable amount of pressure to prove herself within these spaces at Amherst where her identity was not widely represented.
Academics at Amherst
Koh has devoted most of her time at Amherst to academic pursuits in the physics and computer science departments. "It's kind of funny, I feel like I'm sort of counter-institutional wherever I end up. Back at my [STEM-focused] high school, I was very much like, 'Oh, I like music and writing.' And here, [at a liberal arts college], I'm very much a physics person, which has consumed a lot of my identity here," Koh remarked.
Koh was drawn to physics and computer science because she wanted "to end up with something that would look sort of like an engineering degree."
"I was looking at the majors that would best prepare me for something afterwards, but also being able to have that liberal arts education, where it's very in-depth about concepts," she said.
Koh playfully remarked, "I like to joke that I think I picked the two departments at this school with the worst vibes. I just sort of planted my feet and established my space there, maybe even out of just stubbornness."
Koh's choice of majors was a function of more than just her intellectual interests — by pursuing these majors, Koh felt she could promote diversity and inclusivity in spaces that did not have ample representation. She explained that she became heavily involved in diversity efforts, particularly in physics, to "push for more inclusive teaching styles and practices."
"It was mostly because it was something that I realized I had to go through that people shouldn't have to," she explained. "With that in mind, I felt that in picking majors, [I] could make the most impact while still doing things that I enjoyed, like solving problems and writing code."
As a capstone of her studies in the physics department, Koh completed a senior thesis, working on research conducted by David Hall, Paula R. and David J. Avenius 1941 professor of physics. Hall's research focuses on Bose-Einstein condensates, simply understood as atoms that are extremely cold, said Koh. Speaking on the research, Koh further explained that when atoms reach such temperatures, there are interesting quantum effects — such as movement or "excitations" — that occur within the matter. Hall's research is centered on studying these phenomena and Koh's thesis, in conjunction with Hall's research, was focused on analyzing images of the ultra cold atoms. As part of this analysis, Koh was able to tie in her studies in computer science, creating an algorithm that identified the locations of the excitations within the images taken of the atoms. Reflecting on the analysis, she explains that it entailed "looking at the picture and being able to create a machine learning algorithm, which is actually sort of computer science, to say, 'Oh, here's one of those excitations, here's another one of those excitations.'"
Commenting on Koh's work, Hall remarked, "Sophie wrote a fantastic thesis. I should note that it was with very little substantive input from me. She taught me a lot about machine learning, and I look forward to putting her results to use in analyzing data from my laboratory."
Extracurricular Involvements
In addition to her academics, Koh has been heavily involved in campus life at Amherst. As a president of the Electronics Club, a member of Spectra (Amherst's physics and astronomy club), a baritone saxophone player for the Amherst Jazz Ensemble, and a member of DASAC, Koh's extracurricular involvement has shaped much of her experience as an Amherst student. It has also been a primary means through which she has continued her efforts to promote diversity and inclusivity in spaces lacking representation.
For Koh, Electronics Club was a way to fuse her intellectual passions with a drive for inclusivity. As president, Koh said, "I've really been trying to push the focus from individual projects toward more teaching, so people who are interested [in] but don't know anything about electronics [can] come and learn." Koh also spearheaded a light installation project now hanging in the Science Center, which she described as the "magnum opus" of her involvement with the Electronics Club. She explained that combining art with electronics was a great way to get people of all interests and experience levels involved in the space of electronics.
Spectra was another space in which Koh sought to cultivate a space in which people could feel a sense of belonging: "Spectra is really in line with these ideas of pushing for more inclusive practices in physics and community building within a physics major, because I think doing physics can [often] be very isolating," she said. "And particularly if you're underrepresented in physics, it can feel like you don't really have a place anywhere."
Among its many activities, Spectra organized collective study nights and career building events, as well as a weekly "scientist of the week" feature on the club's Instagram account, in which they highlight scientists from underrepresented groups. Koh suggested that the last of these activities was pivotal for her, not only for her DEI efforts but also for her personal growth.
For Koh, seeing individuals from underrepresented backgrounds in the field of physics has shaped her self-perception. Most of all, she valued learning about Dr. Chien-Shiung Wu, a Chinese American physicist from the mid-1900s. "Seeing an Asian woman in physics, who was really successful, was a big turning point for me, because I think a lot of this happened while there were many hate crimes going on against Asian American women. So it was a big moment of awakening for me [to see] how I could connect things that were happening on a global level, in the news, to how I perceived myself in this space that I exist in," she said.
Koh's involvement in Spectra has also helped her come to see herself in the field of physics in a new way, both in regard to her identity and experience level. Reflecting on this transformation, Koh remarked, "I think the big turning point for me was figuring out that there isn't a hard cutoff for what it means to be a physicist. It's just if you do physics, that's it. And so I've come to grow into learning and calling myself a physicist."
In addition to her involvement in STEM-related extracurriculars, Koh explored other passions through her participation in Jazz Ensemble and DASAC. Koh looks back fondly on her involvement in Jazz Ensemble. "I was a huge music person in high school and wanted to continue music in some form [at Amherst]. I play the baritone saxophone in the ensemble and like the little person, big instrument aesthetic," she joked. DASAC was also one of Koh's favorite experiences at Amherst. The group provided a valuable artistic outlet for her and a space in which she felt a sense of community and belonging. She noted that DASAC was also important to her development insofar as it helped her learn how to present confidence, a skill she says she'll take with her as she heads into her professional life.
Looking Forward
After Amherst, Koh will pursue a Ph.D. in electrical engineering at the University of California, Berkeley. She decided to switch from physics to electrical engineering because she has always been "interested in application and the impact research can have in real time."
Koh's studies will focus primarily on solar cells as a form of renewable energy. She was drawn to this area because she "wanted to find something to research that is attached to a tangible good in the world."
"It's probably the coolest thing I could ever imagine and I'm so excited to do research on something I feel is really important," Koh enthused.
Looking back on her time at Amherst, Koh shared that her biggest takeaway is the power in breaking traditional molds, and the greater significance doing so will carry in the future.
"Throughout my time at Amherst, I realized that there is [often] a typical mold of what a person who does a specific thing is supposed to look like," she said. "For my case, it was a physicist or an engineer. There's some type associated with that. And if you don't fit that type, it's really hard for you to try to fit into it. I think the biggest takeaway for me is that you should just break that mold, just say 'I'm going to go in here, I'm going to take up space, and I'm going to establish my place here.' And [when] a whole bunch of people do that, that will change what a person's view of whatever that role is in the future."
She further elaborated: "For me, it was saying, 'Even though physics is really hard, and really white, and really male, I'm going to come in, and I'm going to establish my place here.' Hopefully, other people will see me doing that and do the same, and then more people with that same mentality will come in. And eventually physics won't be as male-dominated."
Reflecting on this lesson, Koh affirmed: "I can establish my place in spaces that might not be designed for me. And I want to keep doing that."