commencement
Troy Colleran: Quietly Setting the Standard
Despite a humble, understated presence, Troy Colleran has made an enormous impact in his two key areas: on the track and field team and in the chemistry lab.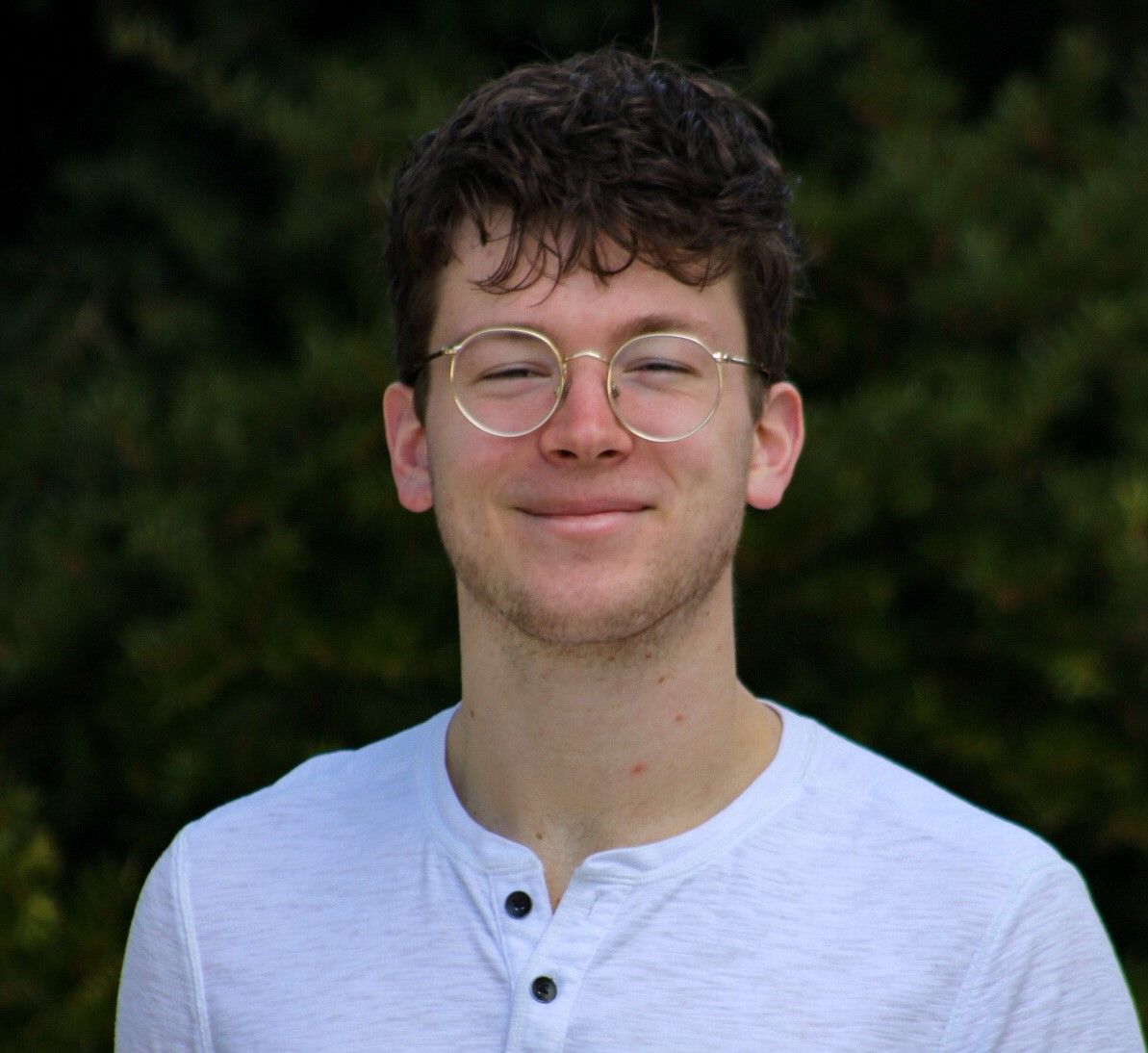 The first time I came across Troy Colleran '22 was my freshman year, in the fall of 2019. It was a sunny and warm afternoon, so, naturally, I took my physical zeal to the poorly lit and unventilated Wolff Fitness Center weight room, excited that few would inhabit the gym on such a nice day. I went downstairs into the free-weights section, which is usually bustling with athletes. I was right; the gym was empty, with the exception of one other guy. As I peered over at him in between sets, his appearance threw me off. He was wearing big sports goggles (the kind that 90s NBA players wore), a white headband, and a black T-shirt reading "Amherst Track and Field" in purple lettering. My initial thought, having previously run track in high school, was, "Who even is this goofy-looking kid?"
A few weeks later, when I began trying out for the track team, I would learn that he was nothing short of a superstar. That quiet, introverted, and enigmatic guy turned out to be a chemistry whiz and a track prodigy — and a great friend and teammate. To my surprise, we even listened to the same music. While it may seem a frivolous or trivial anecdote, this story perfectly encapsulates the humble, quiet, and yet wholly assiduous demeanor of someone who has set the standard in all of his endeavors at Amherst.
Out of the Blocks
Colleran was born and raised in Sammamish, Washington, a suburb just outside of Seattle. He attended public schools growing up and spent much of his early life playing basketball — the first sport he became enamored with. Just one year after he started high school, Colleran's family moved to Boise, Idaho, to be closer to their extended family.
Getting situated at his new Catholic school in Idaho took Colleran some time. "Everybody was already socially established," he said, "so it was hard to find people to hang out with at first." He also recounted that school became significantly easier when he moved to Idaho, which allowed him more freedom to take the classes he wanted to take. "I just took a bunch of chemistry classes; I didn't really care much about the other subjects," Colleran said. "Right after I moved, the first science class I took was chem[istry], and my teacher said, 'Hey, you're pretty good at this, you should take AP [chemistry] next year.' And it ended up going really well. And at that point, in my junior year, I decided I was going to major in chem[istry] wherever I [went to college]."
The move to Idaho also sparked Colleran's track career. After the assistant athletic director spotted him leaping to catch rebounds and darting to loose balls, he told Troy he should try out for track in the spring. "I thought, 'I'll just go do track and it'll help me run a little faster and jump a little higher.' But then I ended up enjoying it more than basketball, and I was better at it for sure."
For the next two years of high school, Colleran continued to foster his voracious appetite for chemistry. Achieving success in his AP and elective courses, he was awarded a departmental science award at his high school and graduated summa cum laude. Troy also continued to excel athletically, becoming a Junior Olympic all-American honoree and an all-state jumper and sprinter.
The First Hurdle
After living in Boise for three years, Colleran took his talents to the East Coast, becoming one of the few from his area to do so, and the first person from his school to ever attend Amherst. "I knew it was going to be a lot different from Boise," he said, "but I wasn't nervous about it, and at that point, I was used to something different, so I just thought, 'Hey it'll be cool.'"
Arriving on campus, Colleran's introverted personality left him, as it leaves so many college freshmen, wondering how he could connect and make friends in his new and unfamiliar home. "I first started hanging out with people through trying to organize pick-up basketball games. That's how I got acquainted with the school: doing things that I had fun doing, and seeing if there were going to be other people there doing it too." Henry Buren '22, a best and early friend of Colleran's, recounts that the initial social scene for the pair was rough. "We wouldn't talk to anyone but ourselves," said Buren. "[Our] teammates were worried about us because we were so antisocial … until we started competing [for track], we weren't really close with anyone."
Luckily, while Colleran was still establishing himself socially, his academic and athletic life had already begun to blossom. He took an immediate liking to the chemistry department at Amherst. The introductory courses and Amherst professors only furthered his passion for chemistry.  "I was lucky to have [Class of 1959] Professor [of Chemistry Mark] Marshall, [Associate Professor of Chemistry Sheila Jaswal], and [Lecturer in Chemistry Stephen] Cartier … They are great professors, and [they] solidified [chemistry as my major]." Knowing that he was set to major in chemistry prior to arriving on campus also allowed Colleran to take full advantage of Amherst's then-brand-new, state-of-the-art science center.
Moreover, his track career was gaining steady momentum. In only his second heptathlon as a Mammoth, Troy placed second at the Division III New England Indoor Championships, receiving All-New England honors and qualifying him for the DIII National meet while he was still only a first-year. Additionally, track had become a vital part of his social life, as many of his closest friends were on the team. "It was nice once we started captain's practices in the fall, [because] it made it really easy to meet people … [track] was like forced interaction, which was good for me, since, as I said, I'm not apt to go out and try and meet new people," he said.
Raising the Bar
Aside from all of this background information about Colleran, most people probably know him from one of two contexts. Colleran is usually known as either that chemistry guy or that track guy. He has set the standard for his peers and teammates in each of these areas, respectively, despite facing numerous setbacks.
"[Colleran] is one of the most hardworking and accomplished people I've ever met," said his friend Katie Lingen '22, "but he goes about it in such a casual and humble manner … his work pushes everyone around him to be the best student, athlete, and person they can be."
Colleran's accomplishments are many: In addition to being a force to be reckoned with in the chemistry lab, a two-time teaching assistant, and a lauded teammate, he holds three school records in the heptathlon, decathlon, and indoor pole vault. Moreover, he has won All-New England honors twice and All-American honors once in the multi-events over the course of his Covid-shortened career.
Head Track and Field Coach Steve Rubin echoed Lingen's sentiments, stating that "[Colleran] takes immense joy in the process of self-improvement, and that feeds his ability to be committed, tenacious, and positive. That's true of his athletic and academic pursuits."
"[Colleran] spends countless hours working in the lab and puts so much passion into his events on the track. It makes you want to work just as hard as he does… If I'm not in the library as much as he's in the lab, I'm not working hard enough. If I'm not showing up to practice as early as [him], I'm not putting in enough effort," said Buren.
Colleran has, therefore, been shown to set the standard and raise the bar in all facets of his life, all while remaining quiet and modest. And while Colleran's success has largely been individual, he nevertheless  "brings [those around him] up with him" and "is quick to celebrate others' successes," according to Assistant Track Coach Veronica Rocco.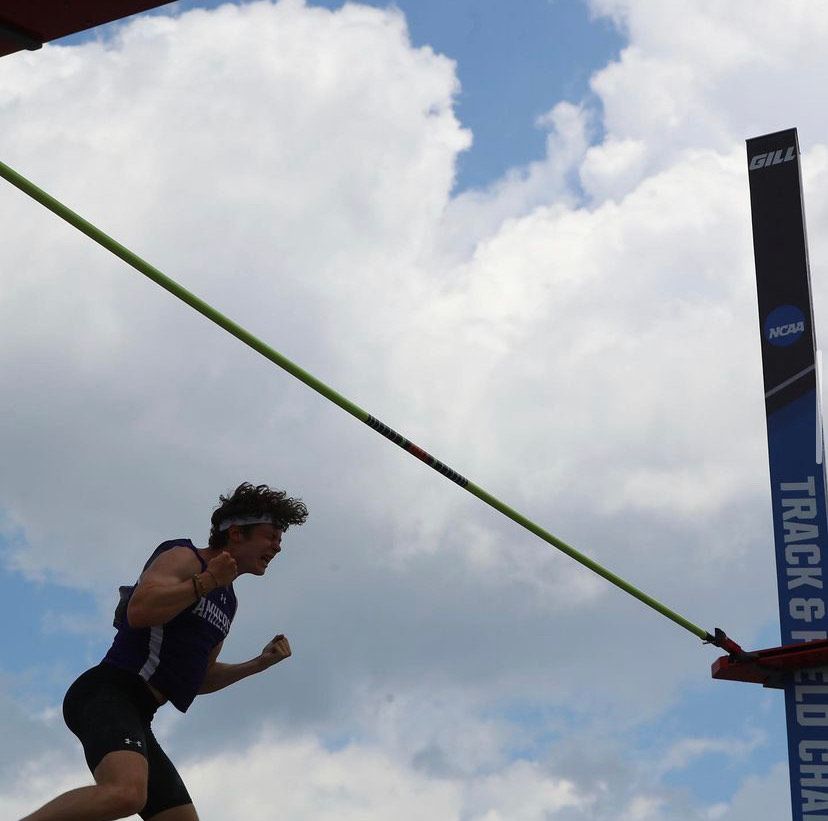 The Bell Lap
In his final year at Amherst, Colleran, never one to slow down, has continued to set the standard in his conduct, academics, and athletic performance.
After performing research the summer before his senior year, Colleran was ready to take on his thesis in chemistry. For his thesis, Colleran compared nanoparticles with dyes and studied their differing interactions with light. "It feels like a culmination of all my academic work," Colleran said. "I felt very accomplished turning it in … it was a physical representation of a lot of hard work."
His final year as a member of the Amherst track and field team was filled with several physical tribulations. A host of injuries limited his ability to compete for a large portion of the season, but despite these difficulties, Colleran still achieved a second-place finish and All-NESCAC honors in the javelin throw at the Outdoor NESCAC Championships. And the entire time, Colleran remained a fearless leader and a captain who inspired and encouraged his teammates.
Going the Distance
Upon graduating, Colleran hopes to continue his academic and athletic careers in graduate school. Colleran is set to return to the west and attend the University of Colorado Boulder, where he will continue his studies in chemistry and his track and field endeavors (the Covid pandemic allowed him an extra year of eligibility).  
After graduate school at CU Boulder, Colleran hopes to pursue a career in the chemistry industry or even work at a national lab. Between now and then, however, Colleran will likely continue his favorite daily activities: perusing Soundcloud and Spotify for new music, playing basketball, and finding friends with whom he can share these interests. However, I am sure of one thing: The quiet kid alone in the gym will continue to set the standard for all that he does.