Arts & Living
Val Hacks: "Tikka Masala"
Whether its lasagna or kalbi short ribs, everybody has a Val meal they'd rather avoid. Staff Columnist Audrey Rosevear '22 presents "Val Hacks," a column dedicated to exploring the alternative culinary possibilities available at Val. Up first, her Tikka Masala recipe.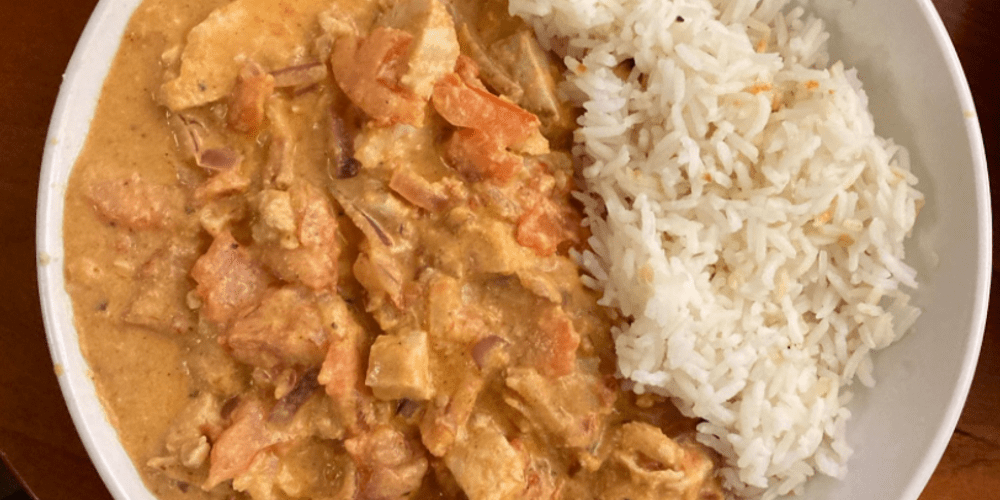 Audrey Rosevear '22 presents "Val Hacks," a column dedicated to exploring the culinary possibilities of Valentine Dining Hall. This week, here is her recipe for chicken tikka masala, D.I.Y. Val-style.
Between copping free food from an event you didn't go to, ordering buy-one-get-one-free Domino's pizzas, and braving the Greenway kitchens, Amherst students have developed a variety of ways to escape the inflexibility of Val's traditional options. And as much as I love lasagna night, sometimes all that's available are kalbi beef short ribs and tears.
Val is aware of its own shortcomings: this semester has seen the return of the famous stir-fry station, the panini press, the toasters and microwaves, the cereal bar, and more of Val's diversification of options. But I still often find myself craving something a little different after three days in a row of marinara pasta or broccoli in soy sauce. I created "Val Hacks" with the intent to chronicle my (slightly more successful) experiments getting a little more creative with what Val has to offer. After all, they offer multiple cooking devices and a plethora of raw ingredients. There has to be something we can cook up.
My first recipe, the one that sparked this idea in the first place, is my attempt at scratching my itch for chicken tikka masala. It's in quotes because... well... it's not quite chicken tikka masala. But it is damn tasty!
Cooking Device: stir-fry station.
Daily requirements: can be cooked on any day that the stir-fry station is available, but it gets better when there are chickpeas in the salad bar.
Time: Long enough that I'll implore you not to do this in front of a 6:30 p.m. line.
Ingredients:
3-4 tomatoes, sliced (Available at the Sandwich Bar)
handful of onions (Salad Bar or pre-cooked from Traditional)
handful of spinach (Salad Bar, optional)
2 potatoes, quartered (Lighter Side, optional)
rice (Lighter Side, optional)
handful of chicken or chickpeas (Salad Bar or Lighter Side)
1 ladle marinara sauce (Pasta Bar)
2-3 tablespoon cream (Tea Station)
2+ dashes of hot sauce (Salt/Pepper stations)
a pinch of Garam masala (Stir-fry station)
a lot of Garlic powder (Stir-fry station)
a lot of onion powder (Stir-fry station)
a lot of chili lime seasoning (Stir-fry station)
a little  tandoori seasoning (Stir-fry station)
a little ginger powder (Stir-fry station)
salt to taste (Stir-fry station)
Notes:
1. All quantities are approximate. Taste frequently!
2. Hot sauce is essential. If you don't like spicy food, add just a couple dashes to really bring out the flavor.

Recipe
Cut the veggies small. They will cook faster this way.
Put the cream, marinara, tomatoes (cut very small), and hot sauce in a bowl.
Fry the onions and spinach at the stir fry station. Add ginger, garlic, and onion powders. While they cook, add the rest of the seasonings to the sauce.
When the veggies are cooked, add the chicken/chickpeas/potatoes for long enough to warm them up.
Turn the heat down to 200 degrees Fahrenheit, then add the sauce. The stir fry station does not allow you to add extra liquids, but if you turn the heat down first they will not have a problem with it.
Let sit for as long as possible. Ideally would be around 40 minutes to make the tomatoes truly dissolve, in practice I usually do five to ten minutes before I start to feel guilty about the line behind me. Make sure to taste often while it's cooking!
Serve with rice and enjoy!
Spice it Up: Here are some things I would love to add if Val had them. First, the key thing missing from this recipe is plain yogurt. If you have some (perhaps from Grab-n-Go or breakfast), add it at the very end and take the curry off the heat as soon as it's warmed up. This will enhance the flavor and make a creamier texture. Second, cumin and coriander (and cilantro if you're into that stuff) add excitement and spice. The chili lime seasoning has both of these spices, but it also has other ingredients, making it harder to control the flavor. If you're going to choose one of the two, I highly recommend cumin due to its versatility. (This is far from the last cumin recipe you will see on this column.)