Rockin' Radio: The Roaring Return of WAMH
Student radio is back on the air! Contributing Writer Robert Bischof '25 breaks down all things WAMH, discussing the station's upcoming shows, broadcasts and exciting plans for the year.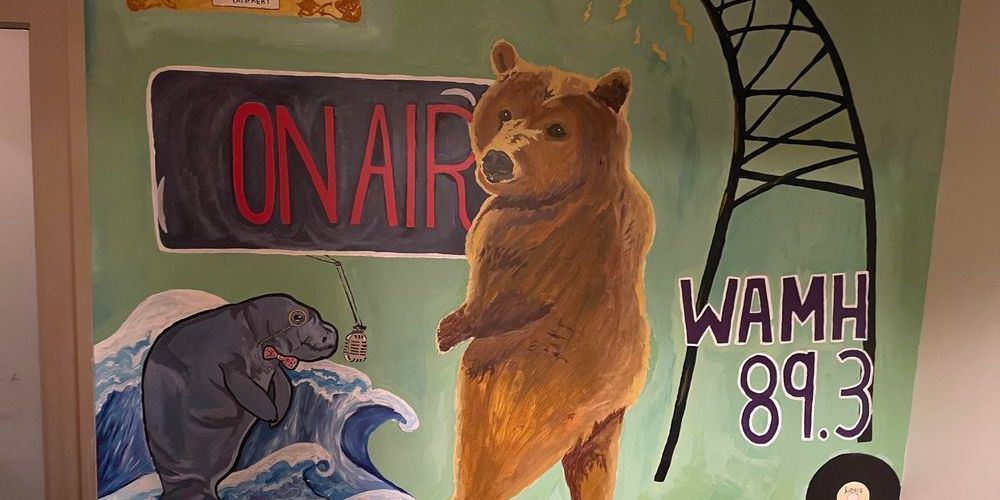 Just over a week ago, on Sunday Sept. 26th, Amherst College's very own radio station WAMH 89.3 FM went live on air for its first broadcast of the fall 2021 semester. The first show of the semester was "Southpaw Soundbites" hosted by Holden Orias '24, a combination of soft rock and sports talk.
Since then, WAMH has continued to broadcast shows daily, from 4:00 p.m. to 2:00 a.m. from the studio on the second floor of Keefe Campus Center. Their programming covers nearly every genre you could think of, including sports, talk radio, classical, jazz and rock. One of the hosts' primary responsibilities is managing the soundboard, which allows them to seamlessly transfer between the studio microphone, and music sourced from either Spotify, vinyl records, or CDs. Hosts also manage the transition between the WAMH studio broadcast and the New England Public Media station broadcast, which plays at the start and end of each day's programming. Furthermore, hosts offer two public service announcements per hour, which can range anywhere from weather reporting to public health information.
If you're looking to listen without tuning in on the radio, WAMH also offers a digital stream. Since last spring, WAMH also contains music blogs, which have been led by head blogger Olive Amdur '23. These blogs range anywhere from recommendations on new music, thoughts and reviews on albums, and deeper discussions on the music industry.
You may have enjoyed some of WAMH's weekly live concerts featured outside the Science Center on Friday or Saturday nights this past month. Performers included Origami Angel, Reggie Pearl, Theophilus London and King Cassius. The Theophilus London performance was co-sponsored with the African and Caribbean Students Union and the Black Students Union, which was a great opportunity to hold an event that stood for more than just entertainment. Members of the WAMH team pick the artists, then negotiate the artist contracts with the support of the Office of Student Activities. Then the WAMH team handles the publicity for the events while the Office of Student Activities handles the technical production. WAMH will continue to organize more live concerts throughout the year, so keep your eyes peeled for posters or check the WAMH Instagram account.
WAMH station manager and host of "The EZ Hours" Matthew Ezersky '22 said that "WAMH gives students the opportunity to literally broadcast their own voice, their own perspective. Radio shows are vehicles for sharing who we are and what we care about. We get to share with our listeners what makes us joyous or angry or anything in between. And we get to say, 'Hey, here's a song we think you might like.' We also play a vital role in bringing live music to campus. It's a real treat to put on concerts for our community."
Elise Farley '25, a new host at WAMH who runs the show "The Catacomb: Hits from the Past" echoed Ezersky's sentiments. "I signed up for WAMH as a way to put myself out there and share some of my interests with a broader audience. Even if I'm having a hard week, it's nice to have at least that one hour where I know I'm doing something just for my own enjoyment and creativity and not thinking about anything else," she observed.
According to Abhi Gupta '25, a regular WAMH listener, "I love listening to WAMH when I study in Frost, or even just hanging out with friends. I really appreciate hearing new music and the chance to connect more with the Amherst community. I also like how convenient it is to listen to the stream on my phone or laptop wherever I am."