Homecoming
When Costume Design Goes Global — Alumni Profile, Emily Rosenberg '07
From the Metropolitan Opera House to Düsseldorf, Germany, Amherst native Emily Rosenberg '07 designs and constructs clothing worldwide.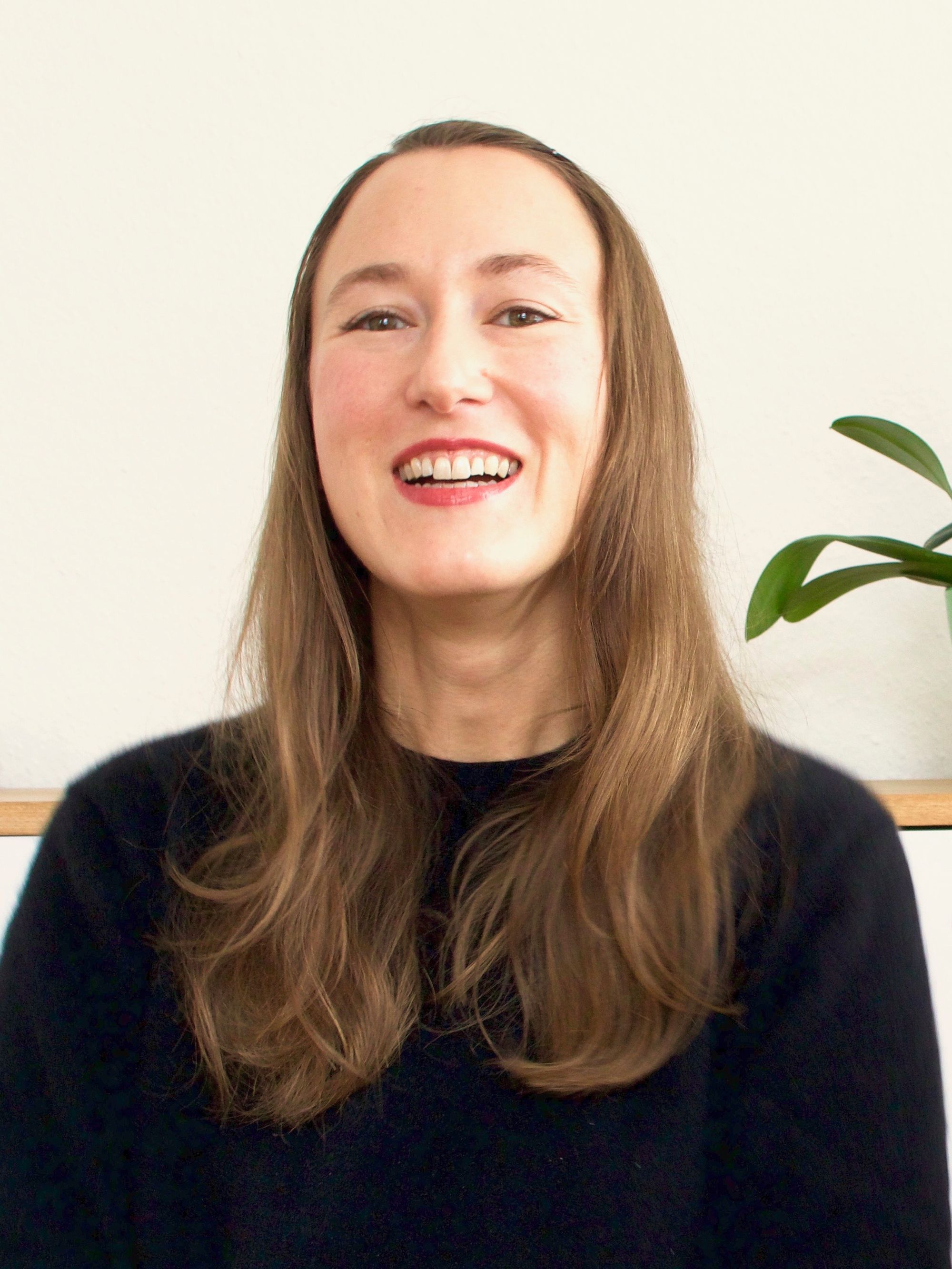 Emily Rosenberg '07 firmly believes that it's okay to be interested in everything. Under that philosophy, she has worked as both an accomplished costume designer and a costume technician, which, she tells me, is highly unusual. When I ask her why she does both, she laughs.
"Because I need to eat."
Then she relents, "I've wanted to have a richness of opportunity. So I've taken a lot of things that were offered to me. I've taken a lot of chances on different things, and I enjoyed them all."
Growing Up in Amherst
Rosenberg's college experience didn't take her very far from home.
In fact, she grew up homeschooled in the town of Amherst, and was part of a resource center called North Star. The center was made up of about 60 non-traditionally educated students "finding their way."
At North Star, Rosenberg learned not only from visiting teachers but from her fellow students.
"I can't imagine my life any other way," she said. "This was a great experience for being self-motivated, of course. [I learned] to trust myself about what I was interested in, and what I could accomplish. And getting to know many, many different types of people and work with many, many different types of people."
The town of Amherst was a huge part of Rosenberg's education.
"That Amherst was so small and so rich in arts and culture was a big benefit for me," she said.
Among the town resources Rosenberg explored were The Gilbert & Sullivan Opera Company, an organic farm and The Amherst History Museum, where Rosenberg worked as a textiles intern for four years as a teenager.
She reflects fondly on her childhood in Amherst.
"All these things that I didn't have any preconceived notions about so I just thought, 'Okay, well, I have time and that seems interesting to me, so I'm just gonna do it.' And it was a great education and a great environment for doing that."
That environment also allowed Rosenberg's growing love for clothing to flourish.
Early on, she would fashion clothing for her dolls out of fabric scraps found around the house. Later, Rosenberg graduated to making and dressing corn husk dolls, and eventually began to make her own clothing.
"I bought a lot of things secondhand and modified them. When I was about 12 or 13, I met a girl who was a little older than me who loves to do this. And she opened my eyes to what was possible with vintage clothes and changing them and putting them together and stuff. So I did that. And then I discovered historical clothes, historical dress, and just thought: 'This is the most beautiful thing ever, and could I please just wear gowns every day?'"
Rosenberg continued to do fashion in various capacities in Amherst, working everywhere from The Valley Light Opera to Cassandra's, a Northampton dressmaker.
"I was so interested in every aspect of it, and was good at it. And that was a winning combination."
College Years
Despite growing up next door to Amherst, Rosenberg never expected to go to college at all. But after auditing a couple of classes taught by Theatre & Dance Professor Suzanne Dougan, Dougan encouraged Rosenberg to apply.
"'What? I'm not going to apply here. I'm working, I'm doing all these things,'" said Rosenberg. "And then I thought, you know what, this is a chance for me to experience something different and meet a lot of different kinds of people and be in this liberal arts atmosphere."
At Amherst, Rosenberg's affinity for doing it all meant that each semester, she would try to take four classes in four different departments, in addition to majoring in both Theatre & Dance and English.
Although her majors certainly served her well, the classes that Rosenberg remembers most are often the ones that she took outside of her majors. Among them: Geology 11, History of Western Medicine, and a special edition physics course celebrating the 100th anniversary of Einstein's most important discoveries.
Her full embrace of the open curriculum makes perfect sense considering the advice Rosenberg would give current Amherst students: "Don't worry about narrowing things down. Just go in the direction you're drawn to, and try to do a lot of different things and find out a lot of different things and try to make friends while you're there. Take advantage of the opportunities because it's so rich, and there's such an abundance of resources there that it's rare to find in any other stage of life."
Rosenberg certainly took advantage of the resources Amherst has to offer.
Before even applying, she had already designed costumes for two plays. At Amherst, she continued designing costumes, most significantly for the Interterm musicals.
"I really learned a lot," she said. "Because [there were] so many moving parts, and so many people to collaborate with, and so many resources to find. And it was also five-college — so I got to meet people that had had other experiences."
Rosenberg also was an active member of the arts scene on campus — she participated in Choral Society, Jazz@Amherst, Five College Dance and even co-founded the Student Arts Forum, which "cultivated conversation between students, faculty and administrators about the importance of arts resources through articles and events."
Unlike most Amherst students, Rosenberg went into college with a strong sense of what she wanted to study — Theatre & Dance and English.
The English component was inspired by Rosenberg's grandmother, who had studied English at Cornell in the 1930s. The two were especially close: their shared love of literature is what propelled Rosenberg towards a double major.
Although it may seem as if Theatre & Dance is a much more applicable major to her career, Rosenberg makes the case for all costume designers to study English.
"Plays are literature. And they're trying to reveal something about the way that humans interact," she says.
Rosenberg studies the literature — i.e. the plays — closely when designing a costume for a character.
At Amherst, she learned that you can discover a character through three aspects: what they do, what they say, and what others say about them. She uses this knowledge to construct an idea of the character and what they should wear, which is then discussed with the director and thoroughly researched.
Life After Amherst — All Over the World
In the summer of 2007, just after graduating from Amherst, Rosenberg found herself in Poughkeepsie, NY. There, she worked for the New York Stage & Film Company as an Assistant Costume Supervisor, and helped the costume supervisor ensure productions ran smoothly.
It was good preparation for Rosenberg's next adventure, this time in London.
She had been given the Janet Arnold Award, a research grant that goes to individuals conducting in-depth studies on the history of fashion and its materials.
Rosenberg used the grant to research structured clothing, particularly corsets, via the Victoria & Albert Museum, Fashion Museum Bath and Museum of London.
After London, she returned to New York, where she worked for the Metropolitan Opera House, maintaining costumes for six performers over more than 150 performances.
The summers of 2009 and 2010 were spent in Santa Fe, NM, where Rosenberg moved from an Apprentice Costume and Wardrobe Technician to Assistant Wardrobe Supervisor at the Santa Fe Opera.
Opera would continue to be a large part of Rosenberg's career — she went on to work in Central City, CO for Central City Opera before returning to New York and the Metropolitan Opera House.
In the fall seasons, including this one, Rosenberg has worked for American Ballet Theatre.
As we spoke on the phone, Rosenberg had finished up her work on the ballet and was preparing to fly back from New York to Düsseldorf, Germany, where she currently lives.
"I always had the dream that I wanted to live in Europe," said Rosenberg. "And I've lived in England before and bopped around a couple of other places. But it was really just this company that I wanted to go to."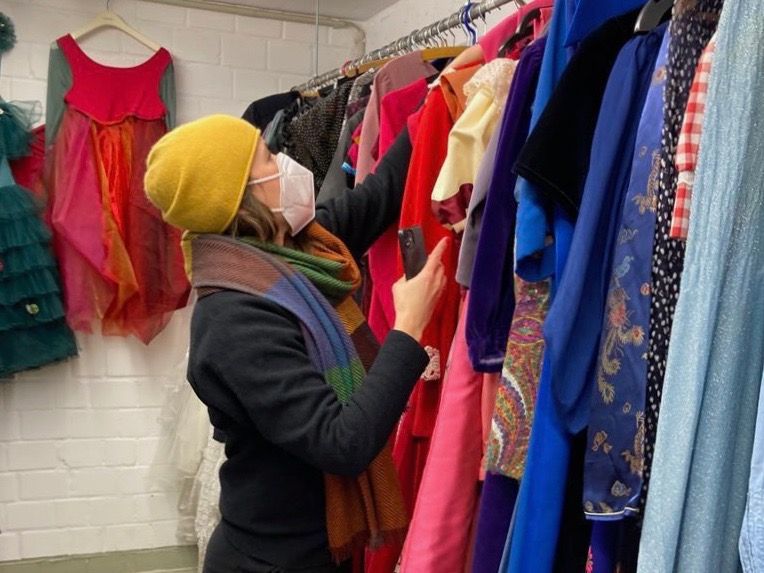 "This company" was Das Gewand, where Rosenberg worked from November 2017 to February 2020. There, she was able to construct "elaborate and artistically sophisticated costumes for the top opera and ballet companies throughout Europe and North America" as a costume technician.
But when she stopped working for Das Gewand, Rosenberg's love affair with Europe was not done.
"Once I was there — and I learned the language after I got there — and I started to settle into the community and city, I thought, there's still something more for me here to learn and to do and experience."
In Düsseldorf, Rosenberg works for a high-end department store.
She admits that the work is not challenging — she wanted to find a job to stay in Germany and stumbled upon a department store with floor-to-ceiling windows overlooking a swan-adorned pond. What's not to love?
Her coworkers are "fabulous" — it was slow-going making friends when Rosenberg first moved to Germany, because she spoke very little of the language upon arrival.
"I just started [learning German] when I got there. Night classes two nights a week, plus a full-time job. It was worth it, though. Fascinating."
Some might be intimidated to learn a language on their feet, but not Rosenberg. To her, "It was so validating. Every new thing that I learned I could use right away."
Rosenberg used to be "really nervous to be interested in things that [she] didn't know a lot about." However, now she's conquering that fear. During the Covid lockdown, she bought a ukelele.
"My goal is to play a few songs that no one really knows, badly." She's promised to send me some.